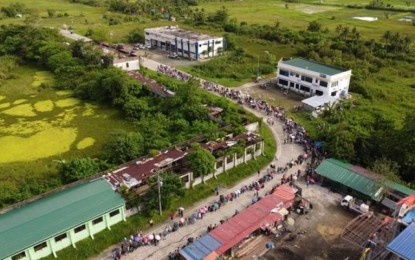 TACLOBAN CITY – At least 29 in every 100 individuals in Eastern Visayas remain poor or have income below the amount needed to buy their basic needs, the Philippine Statistics Authority (PSA) reported on Friday.
The figure is lower than the 30.7 poverty incidence recorded in the 2018 survey, PSA 8 (Eastern Visayas) Director Wilma Perante said during a regional forum at the Summit Hotel here.
"The number of poor population in the region was estimated at 1.39 million in 2021 from 1.42 million three years ago. It posted a 1.8 decrease during the three-year period," Perante said.
Biliran and Samar posted an increase in poverty incidence in the past three years.
From 19.6 percent in 2018, Biliran's poverty rate rose to 27.2 percent in 2021. Samar's poverty data was 33.9 percent last year from 29.2 percent in the last survey.
In Tacloban, the regional capital, the poverty rate went up from 8.1 percent to 15.6 percent in the past three years.
Although Eastern Samar is the poorest in the region, it has shown a significant improvement from 49.5 percent in 2018 to 37.7 percent in 2021.
In the past three years, a reduction in poverty incidences was recorded in Leyte province (31.1 percent to 29.2 percent), Northern Samar (34.3 percent to 25.9 percent), and Southern Leyte (23.7 percent to 21.5 percent).
"We are happy with the reduction of poverty incidence, but we missed to hit the 23.7 percent target under the Regional Development Plan when we recorded 28 9 percent incidence. This is understandable since we had (an) economic slump due to (the) Covid-19 pandemic," said National Economic Development Authority (NEDA) 8 Director Meylene Rosales.
From the third poorest region in 2018, Eastern Visayas was in the fifth rank in 2021, according to the NEDA official.
Meanwhile, subsistence among the population in the region in 2021 was pegged at 10.4 percent.
This means that about 10 in every 100 individuals in the region have income below the food threshold or the amount needed to buy their basic food needs.
A family of five in the region needed at least PHP7,819 monthly to meet the family's basic food needs, which satisfies the nutritional requirements for "economically necessary and socially desirable physical activities."
To satisfy the basic food and non-food requirements, a family of five needs PHP11,187 every month.
An increase in the prices of basic goods and services has increased the monthly income requirement from PHP10,411 in 2018.
The 2021 poverty incidence result was derived from the Family Income and Expenditure Survey, which provides data on levels of consumption by item of expenditure, as well as sources of income in cash and in kind. (PNA)