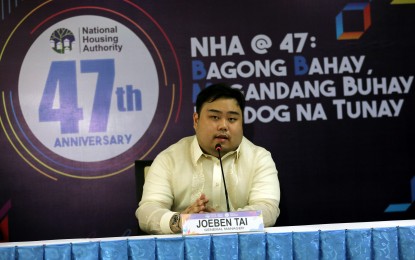 MANILA – The National Housing Authority on Tuesday vowed to complete the construction of the remaining 35,000 housing units for victims of Super Typhoon Yolanda, nine years after the second deadliest cyclone in the country killed more than 6,000 in November 2013.
NHA General Manager Joeben Tai said the completion of the construction of more than 200,000 units under the Yolanda Housing Program (YHP) was long overdue even as he assured beneficiaries that the project will be finished within the term of President Ferdinand R. Marcos Jr.
"It is about time that the NHA delivers its commitment to providing a home to the survivor families of Typhoon Yolanda," he said.
"Hindi na namin paaabutin ng 10th year anniversary ng Yolanda, dahil next year tapos na ang construction ng mga housing units. (We'll finish it before the 10th year anniversary of Yolanda because the construction of the housing units will be completed next year)," Tai added.
He said that in coordination with local government units (LGUs), the NHA will expedite the completion of its commitment to build 209,218 housing units for families affected by Yolanda.
"We will finish the construction of the remaining 35,000 housing units by next year and immediately turn over these houses to the Yolanda-affected LGUs," Tai said, adding that the YHP is already 95 percent complete with 209,218 housing units already finished.
Tai said when he assumed his post last August, he went around the country to check the progress of the construction of the houses.
"My mission is that by the end of the year, there will be no vacant housing units, and all houses built by the NHA shall immediately be released to the qualified beneficiaries," he said.
Tai said the delay in the implementation of the YHP was due to the late issuance of permits, clearance and licenses from the LGUs; lack of workforce; lockdowns; and the quarantine protocols. (PNA)