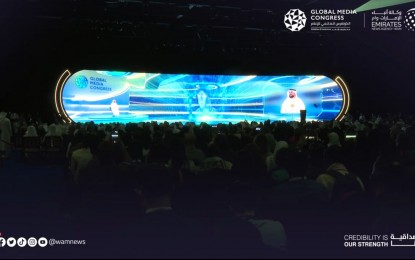 ABU DHABI, United Arab Emirates -- The first Global Media Congress (GMC) has combined physical and virtual reality in conducting a groundbreaking live interview, one of the major features of the three-day event.
In front of hundreds of attendees at the conference here Tuesday, Metaverse presenter named "Hamad" interviewed Mohammed Jalal Al Rayssi, Director-General of the Emirates News Agency (WAM) live on stage.
In the interview, Hamad said he was delighted to learn more about the event, which brings together media experts, tech firms and journalists worldwide.
Al Rayssi said the GMC was "based on the UAE's international responsibility to advance humanity and communities worldwide in all areas" including the media sector which he noted was a "crucial driver" to achieving prosperity and stability.
In response to a question as to why the congress was themed "Shaping the Future of the Media Industry," Al Rayssi said the UAE aims to harness media and communication technologies to support international efforts to shape a future free from discrimination.
"Therefore, shaping the future of the media sector is not limited to one country or region. But it involves all countries because the world is interconnected by many innovations and affected by events happening everywhere," he said.
Al Rayssi said the GMC would establish a positive media discourse and utilize means and technological tools by ensuring accurate and credible media content.
"The event's outcomes will be universal, as it will host appropriate programs that consider the actual needs of workers in the media sector and the future aspirations of the industry. These outcomes will be formulated in the form of recommendations, international awards, global charters, funded media research and specialist training programs," he said.
Loosely defined, the metaverse is a network of 3D virtual worlds focused on social connection.
Metaverse was also among the topics discussed at the GMC. (PNA)