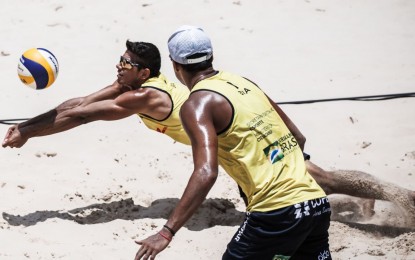 MANILA – Volleyball fans are in for another high-caliber tournament as the Volleyball World Beach Pro Tour Futures goes to the Subic Bay sand court in Zambales on December 9 to 11.
The Futures is the third level of tournament in the pro tour, after the Elite 16 and Challenge, which features the world's top 24 teams in the men's and women's divisions.
The pairs of Jude Garcia and Anthony Lemuel Jr., Alnakran Abdilla and Jaron Requinton, and James Buytrago and Pol Gringo Salvador will carry the national colors in the men's side.
Entered in the distaff division are the tandems of Floremel Rodriguez-Genesa Jane Eslapor, Cherry Ann Rondina-Jovelyn Gonzaga, and Grydelle Joanice Matibag and Khylem Hari Progella.
Philippine National Volleyball Federation (PNVF) president Ramon Suzara said the Philippines is in the 16-team main draw with two teams from Japan, Thailand, Singapore, Lithuania, Israel and Italy.
The four remaining slots in the main draw will be disputed by 14 teams in the men's division (four from the Czech Republic, three from Japan, two each from Thailand and Australia, New Zealand, Austria and Israel) and 13 teams in the women's side (seven from Japan, two from South Korea, the Czech Republic, Singapore, Canada and France).
The qualification round will be held on Dec. 8.
Tournament format is the modified pool play, to be followed by single elimination rounds.
The World Pro Beach Tour is the third major international event organized by the PNVF after the Volleyball Nations League men's and women's tournaments in June and the Asian Volleyball Confederation Women's Cup in August.
Another Futures tournament will be played in The Hague, Netherlands on Nov. 27 to 30.
The Beach Pro Tour season will culminate in a finals featuring the 10 best teams in the world on Jan. 26 to 29 in Doha, Qatar. (PNA)