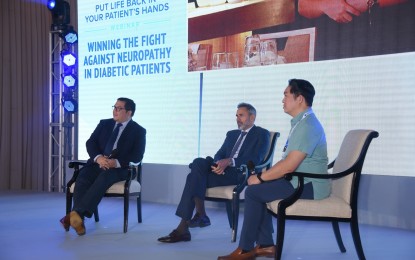 MANILA – Diabetes mellitus is the leading cause of peripheral neuropathy, a condition characterized by damage of nerves outside the brain and spinal cord, worldwide.
During the "Winning the Fight Against Neuropathy in Diabetic Patients" forum on Nov. 10, Central Manchester University Teaching Hospital consultant physician Dr. Rayaz Malik noted peripheral neuropathy is highly underdiagnosed in South-East Asia and the Middle East due to a lack of consensus guidance on routine screening and diagnostic pathways.
"This has a major impact on the quality of life as a result of painful neuropathic symptoms, foot ulceration and amputation with an associated five-year mortality of 40 percent and 80 percent, respectively," said Malik, who is also a professor of Medicine at Weill Cornell Medicine.
"An awareness and sense of urgency amongst patients and healthcare providers is required, and primary care physicians need simple tools and guidance to help them diagnose peripheral neuropathy, he added."
In response to this, P&G Health Medical & Technical Affairs Senior Director Dr. Ashley Barlow said they are committed to continued efforts to raise awareness on diabetes and its associated complications including peripheral neuropathy and nerve damage.
"The scientific forums rolled out by P&G Health across Asia Pacific, Middle East, and Africa region, provide insights, data, and clinical practice guidelines on the role of neuropathy diagnoses, treatment and management from health experts worldwide to improve the quality of life of diabetic patients," he added.
In 2021, there were 393 million diabetic patients in the Asia Pacific, the Middle East, and African regions projected to rise to 603 million by 2045.
One in two patients with diabetes suffers from peripheral neuropathy during their lifetime.
With the increasing prevalence of diabetes, there will be an exponential growth in the number of patients in these regions with peripheral neuropathy.
In the Philippines, a prevalence of 42 percent for diabetic neuropathy among 2,708 patients who were assessed in diabetic centers from the Diabcare-Asia project in 2000 was recorded.
Meanwhile, Malik said identification of early of peripheral neuropathy among patients does not require complex diagnostic tools.
"Simple tools like a questionnaire and a sensory test can be a good start. By asking the right questions and listening to the patient, we can help patients avoid severe complications and improve their quality of life," he said.
The symptoms of peripheral neuropathy include burning and stabbing pain in the feet and hands which can significantly impact activities of daily living like walking, climbing stairs and sleeping.
Apart from diabetes, B vitamins deficiencies and aging are other high-risk factors leading to peripheral nerve damage. (PNA)