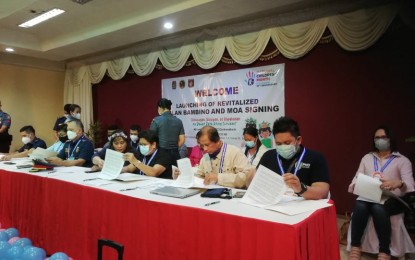 SAN JOSE DE BUENAVISTA, Antique – Various government agencies, faith-based leaders, and advocacy support groups in Antique on Tuesday committed to the revitalization of "Oplan Bambino", a program that promotes an understanding of laws protecting children, especially those in rural areas, from any abuse, exploitation, and discrimination.
First launched in 2015, the program was officially revitalized in the province by the Antique Provincial Police Office (APPO) with the signing of a memorandum of agreement by partner organizations.
Antique Provincial Board member Mayella Mae Plameras-Ladislao, who represented the provincial government during the launch, said everyone has a role to play in taking care of the children.
"The children are the assets of our fatherland," Ladislao said in her message, adding that children's rights have to be protected.
Department of Education (DepEd) Schools Division of Antique superintendent Felisa Beriong said teachers under the 22 school districts in the province would include in their lesson plans teaching children about morals and values formation.
Beriong said they would also provide child protection centers in the schools.
"Bambino then means baby or small child who needs protection from physical abuse, love, and attention," she said.
In his message, Bishop Leon Estrella of the Philippine Independent Church said the faith-based partners are giving all-out support for the program.
"Rest assured that the child protection will be the core of our ministry," he said.
Police Lt. Ariel Artillero, APPO deputy for administration, said the police appreciate the commitment of their partners on the Oplan Bambino.
"I commend the people for the launching of the Oplan Bambino" Artillero said.
The other partner agencies that signed the MOA are the Provincial Social Welfare and Development Office, Provincial Health Office, and League of Municipalities in the Philippines - Antique Chapter.
There were also the barangay officials, Antique Philippine National Police Press Corps, and advocacy support groups. (PNA)