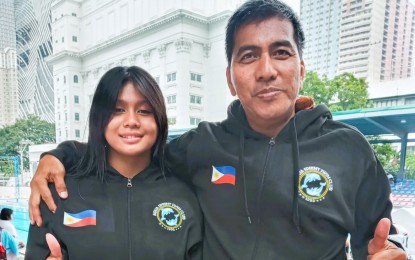 MANILA – Paulene Beatriz Obebe of Aqua Sprint Swim Club won the girls' 12-year-old 100-meter freestyle Class A event in the 1st Congress of Philippine Aquatics, Inc.- Samahang Manlalangoy ng Pilipinas (COPA-SMP) Christmas Friendship Swimfest at Teofilo Yldefonso pool inside the Rizal Memorial Sports Complex in Malate, Manila on Sunday.
Obebe clocked 06.76 seconds, validating the Most Outstanding Swimmer award she received for also winning the 50-meter butterfly (31.18), 50-meter backstroke (34.83) and 50-meter freestyle (29.33) events.
"I am very happy. I hope that I will be able to lower the times next year," said Obebe, who has been training under coach Manny Thruelen for three years now.
Obebe also took home nine gold medals in the COPA - SMP Grand Reunion Swim Challenge Championships late November.
In the girls' 11-year-old 100-meter freestyle Class A, Maria Felisha Celso of Bulacan Water Dragons registered the best time of 1 minute and 08.79 seconds to beat Nicola Queen Diamante of RSS Dolphins (1:11.77).
"I'll try to do better next time," said Diamante, who topped the 50-meter freestyle (31.66), 50-meter backstroke (34.43) and 50-m butterfly (34.43) events.
Obebe and Diamante will compete in the Batang Pinoy National Finals on Dec. 17 to 22 in Vigan, Ilocos Sur.
COPA Board member and SMP president Chito Rivera said teams from Hong Kong and Malaysia would be coming over to join a tournament tentatively set in March next year.
"We don't need to spend much to go abroad. We will ask foreign teams to come here," Rivera, also the Jose Rizal College coach, said in an interview.
He said COPA is planning to hold more tournaments and seminars for coaches and Physical Education teachers in public schools. (PNA)