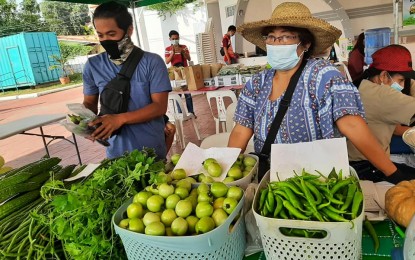 MANILA – New graduates of the Department of Agrarian Reform's agro-enterprise development (AED) integrated learning sessions will pass on their knowledge to small-time farmers, agrarian reform beneficiaries (ARBs) and agrarian reform beneficiaries organizations and help them engage in marketing agreements.
The 118 certified agro-enterprise facilitators from DAR, representatives from local government units, and ARB organizations finished the course that tackled the relevance, effectiveness and initial impact of AED projects when integrated with a microfinance approach.
"The agro-enterprise facilitators are instrumental in the economic empowerment of the farmers and in facilitating the launching of agro-enterprise projects in the countryside," Undersecretary for DAR Support Services Office Milagros Isabel Cristobal said in a news release on Friday.
In assisting farmers, the new facilitators will apply the Linking Smallholder Farmers to Market with Microfinance (LinkSFarMM) program, which aims to transform landless farmers into entrepreneurs or business owners who earn not only from tilling the soil but also from developing their products, not just selling them as raw materials.
Ronald Gareza, Director of the Bureau of Agrarian Reform Beneficiaries Development, said previous AED courses have resulted in 32 project sites.
"Now, you are part of the DAR-certified agro-enterprise facilitators who are expected to encourage more ARBs to join clusters to increase their production and engage in marketing agreements with institutional markets," Cristobal told the new facilitators during the recent online recognition program. (Marita Moaje/PNA)