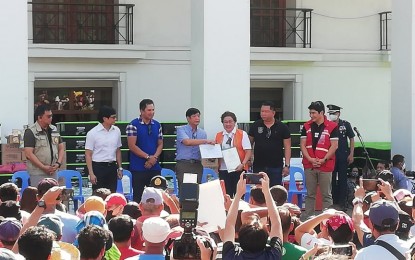 SAN JOSE DE BUENAVISTA, Antique – The Antique provincial government will allocate PHP10 million to make a housing project in a relocation site for typhoon victims in the Municipality of Lau-an more liveable.

The relocation site in Barangay Lugta consisting of 770 housing units was built by the National Housing Authority (NHA) for families who were rendered homeless during Typhoon Yolanda (Haiyan) in 2013.
However, the local government unit of Laua-an did not accept the units because of the flooding problem, even as 639 units had been raffled off by the NHA to the Yolanda victims leaving 77 units with no beneficiaries.
Governor Rhodora Cadiao said in an interview Friday said she was instructed by President Ferdinand R. Marcos Jr. during his visit to the province on Nov. 8, 2022 to make the relocation site liveable.
"The housing units are already rotting -- with no water, electrical lines and no doors nor toilet bowls," Cadiao said.
The governor will be meeting with the NHA and Laua-an Mayor Aser Baladjay on Jan. 18 to discuss other concerns on the relocation site.
They will also talk about the need to review the Yolanda beneficiary families and look into their willingness to still avail of their housing units otherwise it will just be given to families whose houses were destroyed by Severe Tropical Storm Paeng (Nalgae) which hit the province last year.
Some 23 families stand to benefit from the housing project once it has been improved.
"Even those living along the coastal areas of Laua-an who frequently suffer from flood could be given (a unit)," Cadiao said. (PNA)