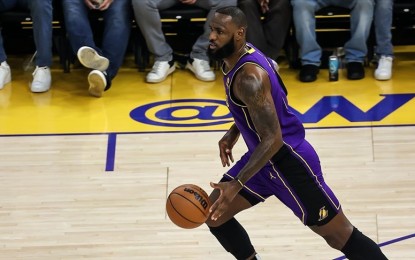 ANKARA – With his 35 points contribution against the Philadelphia 76ers, Los Angeles Lakers forward LeBron James on Sunday became the second player in NBA history to surpass 38,000 points.
He now has 38,024 career points and is just 364 points from passing Abdul-Jabbar to become the NBA's all-time leading scorer.
In January 2006, the 38-year-old became the youngest-ever NBA player to reach 5,000 career points.
He reached the 10,000-point milestone in 2008, at 23, and in 2013 he entered the 20,000-point club.
In January 2018, LeBron dropped more than 30,000 points, with only seven players in NBA history to date.
He has a career scoring average of 27.2 points per game.
LeBron's historic performance, however, was not enough as the Lakers absorbed a 112-113 loss to the 76rs. (Anadolu)