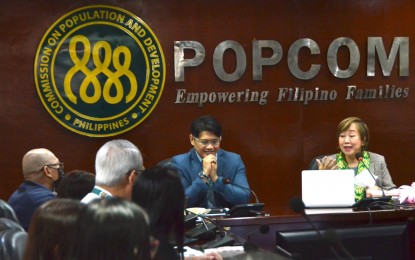 MANILA – The newly appointed executive director of the Commission on Population and Development (POPCOM) has vowed to go further beyond collecting data by getting to know the faces that comprise the numbers and understand how they thrive under difficult situations.
Dr. Lisa Bersales said Friday it will be her personal advocacy to enable Filipino families to live in decent conditions.
"Data and statistics will be used as the basis for prioritizing, for focus, and for monitoring successes," Bersales said in a statement.
Under her leadership, she said POPCOM will look into empirical-based decisions to determine where to start and what to prioritize in accordance with the Philippine Population and Development Program (PPDV).
The PPDV involves responsible parenting to achieve the desired number, timing, and spacing of children; help adolescents and youth avoid pre-marital sex, teenage pregnancies, early marriages, sexuality transmitted infections and other psycho-social concerns; and contribute to policies, plans and programs that will assist government to attain population growth and distribution consistent with economic activities and sustainable development.
To continue engaging in POPCOM's external linkages, Bersales said she will harness her involvement in global organizations to strengthen the commission's international collaborations.
Bersales was a researcher and professor at the University of the Philippines, where she was dean and director of its Graduate Studies for the School of Statistics. She retired last year.
Sworn in by National Economic and Development Authority Secretary Arsenio Balisacan as the 13th POPCOM chief and Undersecretary for Population and Development on Jan. 13, Bersales said her goal is to steer the commission in further fulfilling its mandate through the ongoing programs on family planning and reproductive health, adolescent health and development.
She led the implementation of the Philippine Statistics Act of 2013 which set up the Philippine Statistics Authority in 2014.
She also actualized the Public-Private Partnership for the Civil Registration System Information Technology Project-Phase 2 of the Philippines in 2016, and chaired the Philippine Identification System working group that provided inputs to the Philippine Identification System Act which was enacted in 2018. (PNA)