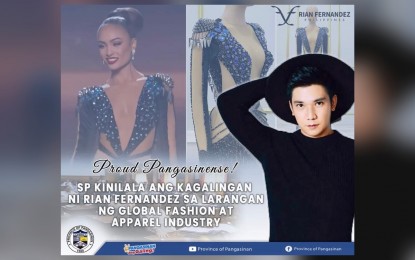 MALASIQUI, Pangasinan – The provincial government of Pangasinan has honored Rian Fernandez who designed the gown of Miss Universe 2022 R'Bonney Gabriel for showcasing the talent of a Pangasinense.
This is through a resolution passed by the Sangguniang Panlalawigan body authored by members Rosary Gracia Perez-Tababa and Nicholi Jan Louie Sison to recognize Fernandez's talent and honor his achievement of showing the world the talents of Pangasinenses.
"The Provincial Government of Pangasinan constantly recognizes the achievements of outstanding Pangasinenses for their valuable service to the Filipino people and laudable contributions to the nation," read the resolution obtained by the Philippine News Agency on Tuesday.
Fernandez was originally from Alcala town, Pangasinan. His parents are Eduardo Monegas Fernandez and Marina Collado-Fernandez.
In a video posted by the provincial government of Pangasinan, Fernandez said Miss Universe 2022 R'Bonney Gabriel has been her client since she joined Miss Texas last year.
"Most of our clients, 70 to 80 percent of them are international," he said.
He also designed the gown of Miss Cambodia.
Fernandez finished his fashion studies at LaSalle College of the Arts in Singapore and he is a member of the Council of Association of South East Asian Nations (ASEAN) Fashion Designers.
One of his masterpieces was featured in Vogue Italia magazine and another one exhibited in the Music Through Your Veins in London, England.
He also obtained awards such as Designer of the Year in the Indrajark International 2019 in Bangkok and Outstanding Designer in Pilipinas Fashion at the Style Week 2018. (PNA)