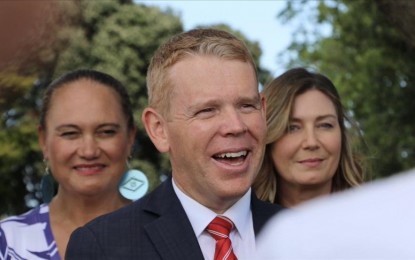 NEW YORK – Labour Party leader Chris Hipkins was sworn in Wednesday as New Zealand's 41st prime minister following Jacinda Ardern's surprise resignation.
Hipkins, 44, served as education and police minister under Ardern.
''This is the biggest privilege and responsibility of my life,'' Hipkins said at the swearing-in ceremony. ''I'm energized and excited by the challenges that lie ahead.''
Ardern on Tuesday made her final public appearance before leaving office and said the thing she would miss the most was the people, because they had been the ''joy of the job.''
She announced her shock resignation last week, saying she would not run for re-election and that her term as prime minister would end no later than Feb. 7.
However, she will continue to serve as a member of parliament until April to avoid a by-election, as the country's general elections are scheduled for Oct. 14. (Anadolu)