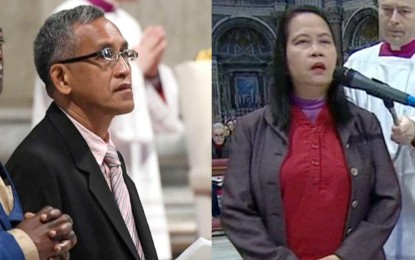 MANILA – Pope Francis recently conferred the ministries of lector and catechist on 10 lay people, including two Filipinos.
The Catholic Bishops' of the Philippines (CBCP) news website on Thursday reported that the pontiff installed the new catechists — four men and six women — from the Philippines, Italy, Congo, Mexico and the United Kingdom (UK) during the celebration of the fourth annual "Sunday of the Word of God" on Jan. 22 at St. Peter's Basilica.
The Filipinos were 55-year-old Leon Asuncion and 55-year-old Norma Ramos, from the Catechetical Foundation of the Archdiocese of Manila (CFAM).
Asuncion is from St. John the Baptist Parish in San Juan City where he had been serving as an Extraordinary Minister of the Holy Communion. He and his wife, Juliefer, are also members of the Couples for Christ since 2008. They are blessed with four children.
He has been with CFAM since 1992, where he served as a catechist until 2000. Asuncion also served as an area coordinator, ministry assistant for research and development and human resource development officer.
Since 2019, he has been serving as CFAM's catechetical coordinator.
On the other hand, Ramos is a catechist from St. John Bosco Parish in Tondo, Manila and volunteer servant of the Lord's Flock Catholic Charismatic Community.
She has been the head catechist at CFAM since 2009.
Ramos also hosts "Katekesis Like Ko To" program aired on Church-run Radio Veritas.
It was in 2021 when the Holy Father formally instituted the ministry of catechist after deciding to open the ministries of lector and acolyte to women. (PNA)