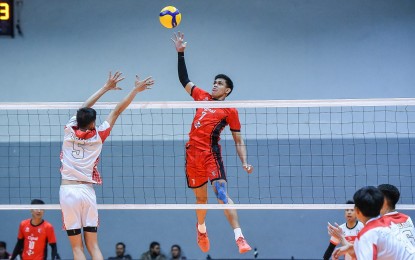 MANILA – Cignal stamped its class over Santa Rosa City, 25-19, 25-18, 25-17, to get a share of the lead in the 2023 Spikers' Turf Open Conference at the Paco Arena on Friday.
John Paul Bugaoan finished with 10 attacks and five blocks as the HD Spikers joined Imus-Ivy Tuason Photography, Philippine Army, Iloilo, and Vanguard on top of the standings in the 11-team tournament organized by Sports Vision.
"It's our first game, we still had a lot of unforced errors, service errors to be specific. Maybe their not used to the atmosphere because it's different in training, it's different in the game,"said Cignal head coach Dexter Clamor. "The good thing here is that no matter who is fielded has performed and contributed positively."
The HD Spikers' impressive blocking allowed them to take a 20-13 advantage on the way to winning the first frame.
Marck Espejo and Bugaoan led Cignal's assault to win the next set while Alfred Gerald Valbuena, Chumason Njigha, Edmar Lutcha Bonono and newcomer Gadpray Aresgado took charge in the third set as the HD Spikers sent the Lions to their second straight loss.
Anrie Sarijil Bakil and Mark Kevin Montemayor scored nine points apiece for Santa Rosa City, which will face the Philippine Navy at 3 p.m. on Feb. 1. Cignal, on the other hand, will battle Imus City at 5:30 p.m. (PNA)