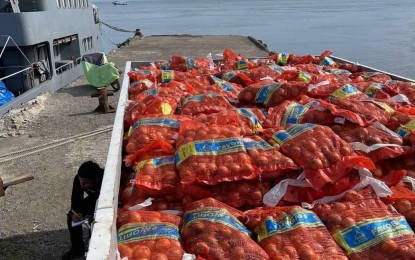 MANILA – The Bureau of Customs (BOC) - Port of Zamboanga (POZ) has seized PHP18.6 million worth of smuggled onions in a vessel in Zamboanga City last week.
In a statement Tuesday, the port said it has intercepted 5,611 mesh bags of imported red onions with an estimated market value of PHP8.5 million and 2,249 mesh bags of imported white onions valued at PHP10.1 million during a maritime patrol operation in Barangay Ayala, Zamboanga City on Jan. 25.
The onions are loaded in a vessel marked "MV Princess Nurdisza," which allegedly came from Taganak, Tawi-Tawi province are bound for Barangay Baliwasan.
It added that the crew failed to provide a Sanitary and Phytosanitary Import Clearance from the Department of Agriculture (DA)-Bureau of Plant Industry for the goods, thus violating Section 1401 of Republic Act (R.A.) 10863, known as the "Customs Modernization and Tariff Act of 2016", concerning Republic Act 10845 or the "Anti-Agricultural Smuggling Act of 2016."
The onions were transported to the Department of Agriculture's Research Center in Barangay Talisayan for safekeeping.
Port of Zamboanga District Collector Segundo Sigmundfreud Barte Jr. reported that the latest apprehension is the third successful seizure of imported onions, following twos separate operations on Jan. 22 and 23.
The successful operations were attributed to the aggressive campaign under the directive of Commissioner Yogi Filemon Ruiz to implement stricter border control measures through continuous maritime patrol operations in western Mindanao, in line with President Ferdinand R. Marcos Jr.'s order to curb agricultural smuggling in the country. (PNA)