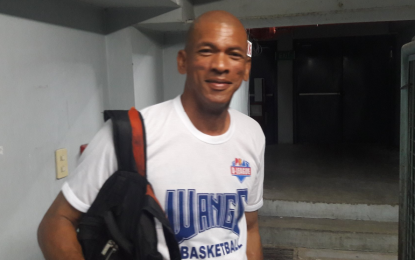 MANILA – Terry Saldaña, one of the Philippine Basketball Association's (PBA) most exciting players during the early 80s, passed away at age 64.
League commissioner Willie Marcial confirmed the sad news on Wednesday night, relaying a conversation he had with Ed Cordero, Saldaña's teammate at Toyota, earlier in the day.
Prior to his passing, Saldaña was suffering from a lingering kidney problem.
Saldaña first became well-known as a superstar for Letran's high school program during the late 70s.
He would join Toyota in the PBA in 1982 after his career prospered in the Manila Industrial and Commercial Athletic Association.
He had a fantastic rookie campaign that year which would have easily merited him the Rookie of the Year award, but he was disqualified from winning it after he was suspended for his role in a brawl with the South Korean national team during their match in the Invitational Conference.
He bounced back mightily by becoming the first recipient of the Most Improved Player award in 1983, and he looked to be on his way to becoming one of the PBA's faces of the 80s.
However, he suffered a career-threatening knee injury in 1987 when he was still with Ginebra while trying to block Alaska's Marte Saldaña.
Despite already slowed down by the knee injury, Terry made a triumphant return to professional basketball, even joining his namesake with the Aces in 1988 before eventually making stops with Pop Cola, Shell and Red Bull as well. He called it a career in 2000 at age 42.
Saldaña made a return to the Ginebra franchise in 1997 and helped the team win the Commissioner's Cup that year, the club's last championship in the Robert Jaworski era.
He also played one season with the Batangas Blades in the Metropolitan Basketball Association in 1999 before signing with the Thunder back in the PBA.
His last piece of PBA action was in 2003 when he was called up to join Toyota in the Crispa-Toyota reunion game, a highlight of the All-Star Week that year.
Saldaña won the Most Valuable Player award in the reunion game when he led the Tamaraws to the 65-61 win
He would find his way into coaching, most recently becoming an assistant coach for Wang's Basketball in the PBA D-League in 2017. (PNA)