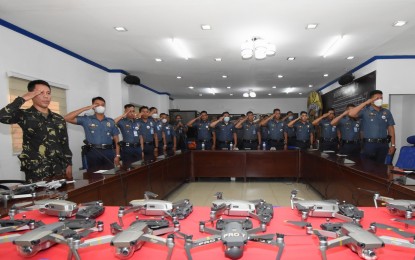 CEBU CITY – The Police Regional Office (PRO) 7 (Central Visayas) has trained drone patrol officers as part of its effort to institutionalize the use of aerial technology in preventing and solving crimes, a police official said Friday.
Brig. Gen. Jerry Bearis said some personnel underwent a one-day Basic Drone Operation and Maintenance Workshop on Thursday to equip them with the knowledge of how to operate drones in sustaining the gains of the police's anti-criminality campaign.
The seminar at the regional police headquarters' Multi-Purpose Hall in Camp Sergio Osmeña Sr. here exposed the cops to highly sophisticated aerial technology suited for patrolling, pursuit operations, and anticipating security concerns.
"PRO-7 took advantage of the most advanced aerial monitoring system during the successful conduct of the highly anticipated Sinulog 2023 in Cebu City and Carmen, Cebu. Security was upgraded with the use of drones, mobile CCTV, and helicopter patrols," Bearis said.
Lt. Col. Gerard Ace Pelare, Bearis' spokesperson, said drone patrolling would not only be used during major events like the Sinulog as the PRO-7 endeavors to incorporate it in the regular daily anti-crime proactive measures.
"Definitely, the use of technology is a well-proven strategy in crime prevention and crime solution. The use of drones provides the police with a wider perspective because the view is from above so it will be effective in pursuing criminals or anticipating a traffic problem," Pelare said in an interview.
As the Philippine National Police cannot afford to deploy helicopters in every police office or station, drone patrolling could be a useful tool to sustain the gains in the anti-criminality campaign.
Pelare also said every city and all the provincial police offices in Central Visayas would have a special unit under the Operations Division that will man the drone patrol efforts side by side with the foot-patroller cops.
He said Bearis has encouraged the local police to acquire aerial technology in their local setting and use them in their anti-criminality programs. (PNA)