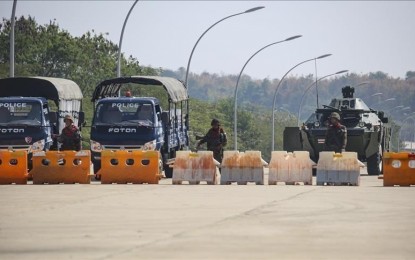 ANKARA – Amid ongoing clashes between government and resistance forces, the Myanmar military junta declared martial law in 37 more townships across the country, local media said on Friday.
The military junta ordered on Thursday to impose martial law in areas where fighting between the Burma Army and resistance forces has intensified, local media outlet Democratic Voice of Burma reported.
Tanintharyi Region, five townships of Bago Region, Ye Township of Mon State, Kyainseikgyi and Kawkareik townships in Karen State, four townships in Karenni State, five townships of Magway Region, 10 townships in Sagaing Region, and seven townships in Chin State are among the new areas where martial law has been imposed.
The latest development came just a day after the military junta extended the state of emergency for another six months on Wednesday, citing the law and order situation in the country.
On Feb. 1, 2021, the military imposed martial law in Mandalay and Yangon Regions following overthrowing of Aung San Suu Kyi's government in a military coup after her National League for Democracy party won national elections in Nov. 2020.
However, people demonstrated strong opposition to the military coup, and the army launched a violent crackdown on anti-coup protesters who demanded the release of all elected MPs and the resumption of parliament.
According to a recent UN report, at least 2,890 people lost their lives at the hands of the military and those working with them, while 767 were initially taken into custody since the military took power.
Under martial law, all power of the judiciary is transferred to the military coup leader Min Aung Hlaing and his commanders.
Hlaing told the National Defense and Security Council on Wednesday that only 198 of the country's 330 townships are currently "stable and peaceful," according to the media outlet.
Indonesia, the current chair of the Association of Southeast Asian Nations, has said it will send a military general to Myanmar to engage with the junta and "demonstrate" how the Muslim-majority nation successfully transitioned to democracy.
Myanmar is part of the 10-member regional bloc but has not attended any summit since the coup two years ago. (Anadolu)