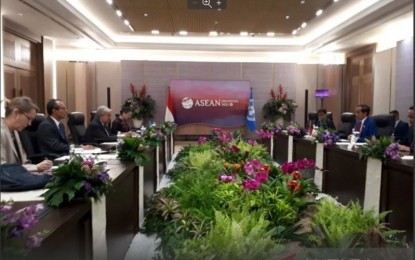 JAKARTA – Indonesian President Joko Widodo (Jokowi) drew attention to the importance of a sense of unity between the Association of Southeast Asian Nations (ASEAN) and the United Nations (UN) in preserving world peace.
"Unity between ASEAN and UN is essential in preserving peace and solving crucial issues in the (Southeast Asian) region, such as the Myanmar issue," the President remarked during a bilateral meeting with UN Secretary-General Antonio Guterres on the sidelines of the 43rd ASEAN Summit in Jakarta on Thursday.
Jokowi reiterated that Indonesia, as the 2023 chair of ASEAN, pays close attention to the current global situation.
The President affirmed that the ASEAN is striving to forge and execute concrete cooperation as an implementation of the ASEAN Outlook on the Indo-Pacific (AOIP) in the hopes of maintaining regional peace, security, stability, and prosperity.
He expressed hope that the UN will continue to invest significant efforts to create and preserve peace for the world.
Guterres, meanwhile, extended his appreciation to Indonesia for the country's tremendous diplomatic activities that not only affect Southeast Asia but also the world as a whole.
He defined Indonesia as a special partner of the UN that plays a crucial role in promoting sustainable development, anticipating climate change, and upholding human rights.
Guterres said Indonesia has been successful in holding the chairmanship of G20 last year and of ASEAN this year, becoming an exemplary country in terms of the implementation of skilled diplomacy that aligns with the principles found in the UN Charter.
"I would like to congratulate Mr. President for your extraordinary leadership in ASEAN during this period (of chairmanship)," he said.
During its ASEAN chairmanship this year, Indonesia has organized numerous agenda items for the regional bloc, including the 42nd ASEAN Summit held in May in Labuan Bajo, East Nusa Tenggara Province, and the ongoing 43rd ASEAN Summit in Jakarta.
This year is the fifth time that Indonesia holds the chairmanship of ASEAN. Earlier, the country had been the chair of the bloc in 1976, 1996, 2003, and 2011. (Anadolu)