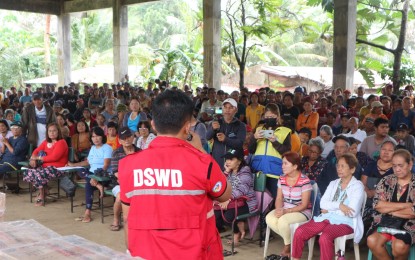 LEGAZPI CITY – A total of 2,233 fishermen in Rapu-Rapu town in Albay are set to receive aid from the government through the Department of Social Welfare and Development (DSWD) with the help of Ako Bicol Partylist and 2nd District Rep. Joey Sarte Salceda.
In an interview on Monday, Mary Gizelle Mesa, DSWD-Region 5 (Bicol) spokesperson, said the distribution of the additional aid started Sunday and will be held until Friday.
She said 500 beneficiaries have so far received their cash aid.
"The assistance of PHP6.7 million or PHP3,000 per beneficiary was given particularly to the fishermen badly affected by the shear line, low pressure area, and northeast monsoon that continue to bring heavy rains across the region. The 2,233 beneficiaries affected were identified thru the help of course of our good congressmen," Mesa said.
She said the beneficiaries are from the villages of Bilbao, Lagundi, Sagrada, Caracaran, San Ramon, Liguan, Calanaga, Dapdap, and Bogtong.
"Aside from the cash assistance, 1,000 family food packs (FFPs) were given. In total, we already provided 15,219 FFPs worth PHP9 million to the provinces of Albay, Catanduanes, Camarines Sur, Sorsogon, Masbate and Camarines Norte," Mesa added.
She further said there are 26,750 standby food packs and 51,866 non-food items that are ready for distribution should local government units (LGUs) need them for their relief operations.
On top of these, a PHP5-million standby fund is ready for disbursement should there be a need to buy additional food packs and non-food kits.
Each family food pack can provide food for a family of five members for at least two days.
Mesa said during the aid distribution on Sunday, DSWD-5 Regional Director Norman S. Laurio told the beneficiaries that DSWD is always ready to help those in need.
Meanwhile, the agency opened five new satellite offices in the region from September 2022 to January 2023.
"These new satellite offices were catering to the client's needs, particularly those seeking assistance to individuals in crisis situations (AICS). We have already six existing offices and plus these five, so more clients can be served," Mesa said.
The new five satellite offices of DSWD-5 are in Naga City, Iriga City, Camarines Norte, Camarines Sur, and Sorsogon. Another will open soon in Masbate City. (PNA)