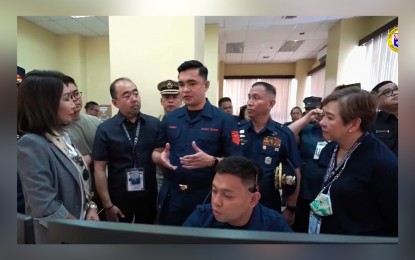 CEBU CITY – Governor Gwendolyn Garcia on Thursday vowed to help law enforcement agencies in Cebu province equip themselves to strengthen border control against the entry of illegal drugs that could be smuggled in bulk through seaports and airports.
Garcia said the province would capacitate agencies as part of strengthening the One Cebu Inter-Agency Interdiction Task Force (OCIAITF) created to synchronize efforts in preventing the entry of illegal drugs into the province.
The governor said the recent arrest of a South African believed to be a drug mule at Mactan-Cebu International Airport that led to the confiscation of 17.6 kilos of suspected shabu was a result of a collaborative effort of different government agencies.
Bureau of Customs' X-Ray Inspection Project personnel stationed at the MCIA's international arrival area alerted the Philippine Drug Enforcement Agency after they detected suspicious items stuffed in the baggage of Pietro Aliquo, who arrived in Cebu from Qatar.
"That was the very first time that there was a united front shown because there already is an interdiction task force. What a stellar example that Cebu is showing that hopefully, other provinces may follow," Garcia said.
After the seizure at the airport, Garcia said she wanted to capacitate the law enforcement personnel assigned at the seaport to prevent the transport of shabu using inter-island vessels.
In her visit to the Philippine Coast Guard-Central Visayas headquarters at Pier 3 here on Wednesday along with BOC-Cebu Collector Elvira Cruz, Garcia said she saw the need to intensify further the capabilities of the coast guard in securing the borders from illegal drugs.
The governor was briefed on the vessel traffic management system and the national coast watch system by the PCG-7 district commander, Commodore Luisito Sibayan.
Sibayan proposed to acquire more very high frequency (VHF) radio transceivers, close-circuit television cameras, automatic identification system (AIS) transponders, meteorological antenna/receivers, radar systems in the strategic locations at the coastal municipalities, and X-ray machines for the major ports of entry.
"(They have to) work with our IT (information technology personnel, we would wish to come up you're their budgetary requirement for their proposal," she said. (PNA)