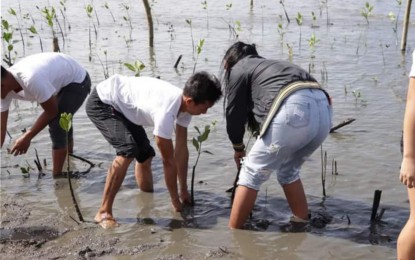 BACOLOD CITY – At least 33 couples in E.B. Magalona town, Negros Occidental province who will tie the knot during the mass wedding on Feb. 14 have planted mangrove seedlings as part of their pre-wedding activities in the past week.
"Aside from expressing their commitment to each other, they also took part in the activity as a symbol to their shared commitment and responsibility to protect the environment," Mayor Marvin Malacon, who will serve as the solemnizing officer, said in a statement on Monday.
The Municipal Environment and Natural Resources Office, with the Local Civil Registrar's Office, organized an orientation on solid waste management for the couples and then brought them to the Tomongtong Mangrove Eco-Trail to plant 200 mangrove seedlings.
The local conservation area is home to a vast mangrove plantation being maintained by the local government unit, which has built a bamboo pathway surrounded by mature mangroves leading visitors to the beachfront.
This is the seventh year that Malacon will officiate a mass wedding, which highlights the need to conserve the municipality's coastal resources and raise awareness for environmental protection among the couples. (PNA)