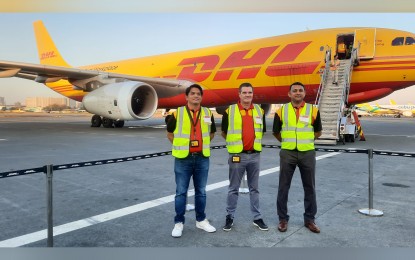 MANILA – With the upbeat business activities as the Philippines reopens the economy from the coronavirus disease 2019 (Covid-19) restrictions, DHL Express has upgraded its dedicated aircraft in the country that can load larger capacity and meet the growing logistics demand.
DHL Express launched in Pasay City on Thursday its latest A330-300 aircraft, an upgrade from the A300.
DHL Express Philippines head of commercial Eric Queppet said in a media event that e-commerce continues to drive growth of its Philippine business.
"E-commerce continues to be our source of growth. What we are seeing is this is a continuous sector that is actually spurring growth to our business, including the deliveries because these are individuals that are ordering online, and direct delivery to their homes and offices. And we continue to expect growth from this sector even after the pandemic, and the economy is opening up," Queppet said.
He said the tech industry, automotive and retail, as well as individual parcels sent by and for overseas Filipinos, supported the company's growth over the years.
Queppet said the company sees this trend to continue with the rosy economic outlook for the Philippines.
"We're seeing the GDP (gross domestic product) growth of the Philippines will be very positive as forecasted by different agencies, including IMF (International Monetary Fund) and World Bank. And we're banking on that bullish forecast to ride on those growth of the Philippines, particularly coming from (the) SME (small and medium enterprise) market and also our tech sector and automotive sector," he added.
DHL Express Philippines country manager Nigel Lockett said the company continues to invest and improve its operations in the country.
"Our new and larger aircraft is a firm commitment to serving our customers and ensur(ing) that we are prepared to support their growth at a global scale and respond to the needs and demands of the market," Lockett said.
Upgrading from A300 to A330-300, DHL Express' new aircraft increased its capacity from 42 tons to 55 tons.
It has two compartment classifications, with the main deck compartment used for bigger unit load devices that can accommodate 26 positions and the lower compartment is now composed of 32 positions from 22 positions in the older aircraft.
The aircraft has 12 flights weekly serving the Hong Kong-Manila-Cebu-Manila-Hong Kong route.
DHL Express head of operations Promod George said the Air Hong Kong aircraft came from its joint venture with Cathay Pacific. The partnership is for 15 years, which will expire by 2033.
"We continuously look at our weights, our loads to see whether we add more aircrafts. In the Covid (coronavirus disease 2019) period, we have added more aircrafts because of the demand. And again, throughout the year, we look at different sectors, whether the demand is there to add more aircrafts in the future," he added. (PNA)