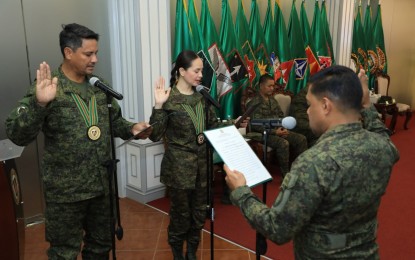 MANILA – Leyte 4th District Rep. Richard Gomez and his wife, Ormoc City Mayor Lucy Marie Torres-Gomez, officially joined the reservist ranks of the Philippine Army (PA).
Philippine Army (PA) Chief Lt. Gen. Romeo Brawner Jr. presided over the commissioning rites for the couple at the Army headquarters in Fort Bonifacio, Metro Manila on Thursday.
"Lt. Gen. Brawner, during the commissioning ceremony, lauded Lt. Col. Richard Gomez for being an accomplished actor, athlete, and public servant whose vision of helping our country has done much, not only in fostering goodwill but also in further establishing the face of the PA in the eyes of the public," PA spokesperson Col. Xerxes Trinidad said in a statement Friday.
Trinidad also said Brawner cited the achievements of Lt. Col. Lucy Marie Torres Gomez as a public servant and as an actress.
The Army chief also described the couple as "exemplars of professionalism" and hailed them for their dedication and hard work.
"To our honorees, you have our admiration for all your hard work, selfless dedication, and untiring commitment to serve. You are not only exemplars of professionalism but you are also instrumental in the accomplishment of our vision of becoming a world-class, multi-mission ready, and cross-domain capable Army," he added.
1st medical evacuation mission
Meanwhile, the PA also announced that its Aviation Regiment has conducted its first-ever medical evacuation mission when one of its MBB Bolkow 105 helicopter ambulances transported a seriously wounded soldier from Albay to a military medical facility in Quezon City on Thursday.
Trinidad identified the soldier as Cpl. Roger R. Villares, a member of the 49th Infantry Battalion (49IB), 9th Infantry Division, who was among the troops injured in an improvised explosive device (IED) attack by New People's Army insurgents in Oas, Albay on Feb. 15.
Villares was confined at the Bicol Regional Hospital and Medical Center before the aeromedical evacuation to transfer him to the Armed Forces of the Philippines (AFP) Medical Center in Quezon City.
"The said IED blast also claimed the life of an Army officer who was then leading 49IB troops in responding to village folks' report about the presence of CPP-NPA Terrorists in their area," Trinidad said.
A second Bolkow helicopter also transported four relatives of Villares from Legazpi City to the AFP headquarters in Camp Aguinaldo in Quezon City.
"We are developing the Army's casualty evacuation because the life of each soldier counts. Even if we save only one life through this capability, it is already worth it," Brawner said.
The PA's MBB Bolkow 105 air ambulance is a reconfigured helicopter manned by a team of Army aviators, military doctors, nurses, and crew working together to support ground missions.
The PA's aeromedical evacuation training program began in 2022. (PNA)