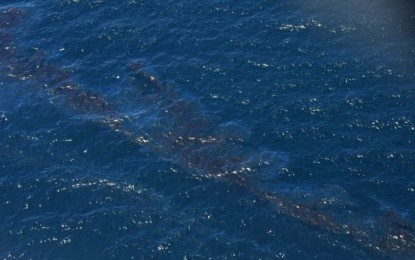 MANILA – The Philippine Coast Guard (PCG) and the Department of Environment and Natural Resources (DENR) on Wednesday began the mechanical recovery of spilled oil in waters off Naujan town in Oriental Mindoro province following the sinking of the MT Princess Empress on Tuesday.
In an update, the PCG said MTUG Titan, a tugboat carrying oil spill recovery equipment, reached the area at around 2 p.m.
It was carrying members of the PCG's Marine Environmental Protection Unit (MEPU), DENR-Environmental Management Bureau (EMB), and Malayan Towage and Salvage Corporation (MTSC).
In addition to a diesel oil spill spanning 6 kilometers (km) long and 4 km. wide, it confirmed the presence of a much thicker and darker oil spill at about 7.4 nautical miles southwest off Balingawan Point, Naujan.
"MTUG Titan has started spraying oil dispersants in the area," it said.
The oil spill was confirmed after the PCG MEPU observed black and thick oil with a strong odor from the collected water samples in the area.
In a radio interview, PCG spokesperson Rear Adm. Armando Balilo said BRP Melchora Aquino and MTUG Titan have been deployed in the area while the PCG Aviation Force conducted an aerial inspection.
To date, Balilo said only the diesel oil used by MT Princess Empress has been confirmed.
However, he said the tanker is also carrying 800,000 liters of industrial oil—much thicker than diesel and more harmful to the local marine wildlife.
"Kailangan pong tanggalin siya kasi any time ito ay tatagas at magiging environmental catastrophe (We need to remove this because it can spill at any time and could become an environmental catastrophe)," he said.
The shipping company that owns MT Princess Empress, RDC Reield Marine Services Inc., has begun retrieval operations and arranged for the help of MTSC in addressing the oil spill in the area.
"Mayroon naman silang arrangement sa salvage companies, mayroon silang oil spill response pero nandyaan din ang PCG at tina-tap namin ang mga kumpanya ng langis na may oil spill response para pagtulung-tulungan na (They have an arrangement with salvage companies, they have an oil spill response, but the PCG is here to assist and we're tapping oil companies with oil spill response for cooperation)," he said.
If the incident worsens, he said the country may also reach out to past partners in oil spill exercises like Indonesia and Japan.
"Kung talagang masayadong malaki, maging karatig-bansa tumutulong kung talagang 'di masawata. Pero sa tingin ko naman ay handa tayo (If it becomes too big, neighboring countries can help if we can't do it alone. But I think we're ready)," he said.
Local residents were advised to keep their distance from the incident area due to health hazards.
Possible negligence on the part of the shipping company is being looked at and may result in charges being filed following an investigation.
Earlier, the 20 crew members of MT Princess Empress have been brought to Subic, Zambales for medical attention.
On Tuesday, the vessel departed from Bataan province and encountered engine trouble due to overheating while en route to Iloilo province.
It drifted towards Balingawan Point due to rough sea conditions resulting in its partial sinking. The vessel was confirmed to have fully submerged at around 8 a.m. Wednesday. (PNA)