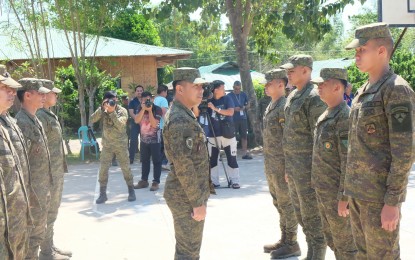 DUMAGUETE CITY – Manhunt operations continue unabated for the remaining suspects who killed Negros Oriental Governor Roel Degamo and eight others on March 4.
Lt. Col. Roderick Salayo, commanding officer of the Philippine Army's 11th Infantry Battalion (IB) based in Siaton town, told the Philippine News Agency in an interview Sunday that they believe the remaining suspects are still in the province.
While four suspects have been arrested and charged with multiple murder and multiple frustrated murder cases, Salayo said the others are still being hunted down in Negros Oriental.
He said there could be more, based on information coming from various sources.
Another one was killed during pursuit operations the morning after.
Police and military sources initially said there were at least 10 suspects in the shooting incident now known as the "Pamplona massacre".
"The manhunt will continue for the suspects indefinitely until the mastermind is arrested. We will also endeavor to win the trust and confidence of the people while working to stabilize the peace and order in the province," Salayo said in mixed English and Filipino.
"And if they are no longer here, the manhunt will still continue elsewhere," he added.
More troops deployed
Meanwhile, thousands of troops from the Armed Forces of the Philippines (AFP) and the Philippine National Police (PNP) were deployed over the weekend in different parts of the province to conduct joint security checkpoints following the creation of the Task Force Negros as ordered by President Ferdinand R. Marcos Jr.
Salayo led the sendoff ceremony of hundreds of composite soldiers from six Army battalions in the province to man at least 21 joint AFP-PNP checkpoints, initially in the Third District of the province.
The soldiers are from the 11, 94, 62, 47, 79, and 15 IB.
Additional troop deployment is set soon.
Salayo said while the Degamo slay was the primary reason for the tightened security checkpoints, these will also play a significant role "side-by-side with their anti-insurgency campaign in the province."
Joint task force
Defense Secretary Carlito Galvez and AFP chief of staff Gen. Andres Centino, during their visit to the governor's wake at the provincial capitol on Saturday, announced the creation of the joint task force to suppress criminality and address lawlessness and violence in the province.
It shall be headed by Brig. Gen. Marion Sison, the 3rd Infantry Division commander.
Salayo said the joint task force comes appropriately at a time when there was already a reported drop in the province's tourism industry following the March 4 attack at the late governor's residential compound.
That incident also left 17 others wounded.
Maj. Cenon Pancito III, designated spokesperson and Civil-Military Operations chief of the task force, also assured that the campaign against the Communist Party of the Philippines-New People's Army will not be compromised by the intensified operations to arrest the mastermind and the other suspects.
"We are happy to note that the insurgency in Negros has already died down and the threat has also subsided that's why we have committed our troops fully to be part of solving the Degamo case," Pancito said. (PNA)