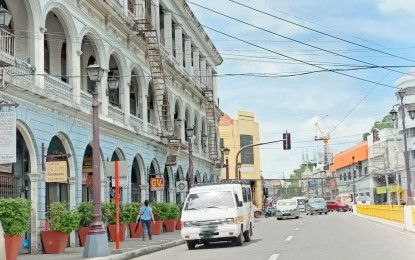 ILOILO CITY – Public electric utility companies and telecommunication carriers operating in Iloilo City are ordered to place underground all their wires and cables within the confines of all plaza complexes, heritage sites and selected thoroughfares.
Councilor Rommel Duron, author of Regulation Ordinance No. 2023-006 that mandates for the underground cabling, said that all concerned public utilities have committed to support the legislation.
"Under the ordinance we require them to do the underground cabling within 240 days or eight months but they are willing to do it as soon as possible," he said in an interview on Wednesday.
MORE Power president and chief executive officer Roel Castro, in a separate interview, said they have already finished the ground surface survey of the one-kilometer stretch of the Calle Real along JM Basa Street, one of the areas covered by the underground cabling.
MORE Electric and Power Corporation has been serving Iloilo City since 2019.
Castro said they decided to take the lead while other utilities are yet to decide and agree among themselves on how to proceed with the project.
On the technical side, he explained that they could not put in the same piping the electrical and cable wires.
After the ground survey, the next task will be to survey the route of the underground distribution system using the radar penetrating device to determine if there are structures that will be affected.
Castro assured that the project will not cause disturbance to the traffic while there are construction works because they will not be doing an open trench.
"The method is not the trench type, the usual that we see on the street where there is digging to take out the pipe and then cover. We will be using a new technology for Iloilo; we will use a horizontal drilling technique," he said.
"More importantly is that aside from the aesthetics we are also making sure that the safety will be better than what it is now. As you can see right now, electrical wires are just right beside the building, so one way or another there are safety issues. When we put it underground, the safety issues are gone, at the same time the aesthetic value will also be better," he added.
Castro said the Calle Real can be one of the major attractions that will bring in more local and foreign tourists to Iloilo City and will bring in a positive impact on the economy.
The MORE Power executive said the initial cost for the project is estimated at PHP95 million.
The firm is looking forward to completing the underground cabling in the next three to four months. (PNA)