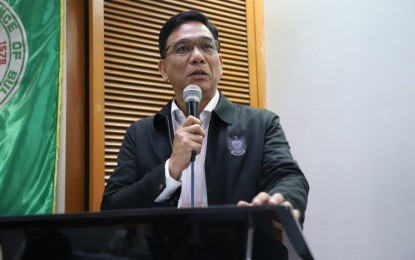 MANILA – The Office of the Presidential Adviser on Peace, Reconciliation and Unity (OPAPRU) denied the alleged intimidation of a member of the Gabriela Party-list.
According to Undersecretary Wilben Mayor, such an action contradicts the core values of the office.
"First of all, we vehemently deny this accusation. It is far from the mandate of our office. Based on our actions with our personnel, no one has done this kind of thing, this kind of intimidation, because this is not the core values, as I mentioned earlier, of a member of OPAPRU. This is not the character, this is not the core values of our colleagues, so it is, on behalf of our secretary, Secretary Isidro Purisima that we deny that this happened," Mayor said at the Saturday News Forum at the Dapo Restaurant in Quezon City.
The accusation was circulated on social media about Gabriela Party-list-Marikina president Elizabeth Maynigo supposedly being "asked to board a vehicle and interrogated by men who identified themselves as OPAPP (former name of OPAPRU)."
"To set the record straight, the OPAPRU vehemently denies that it was involved in the alleged harassment of Ms. Maynigo. This is a baseless, irresponsible, and unfounded accusation," the office said in a statement.
He added that they have yet to hear from the party-list group about the matter.
"OPAPRU did not receive any communication from Gabriela to raise and seek our response to the concern; rather they went all out to besmirch the agency's reputation," the statement said. "There is a process on how to properly validate and verify complaints. To ferret out the truth, the agency immediately conducted internal checking when the allegation broke out in social media."
The OPAPRU urged organizations like Gabriela to follow procedures that have long existed when making complaints against its personnel or any official of the government.
"This goes a long way in preventing issues from taking on the character of gutter material, devoid of any grain of truth. One cannot truly win the hearts and minds of our people by propagating misinformation," the group said.
At the same time, Mayor said a dialogue between both parties should be conducted to be able to settle the matter.
"Our office is open to having a dialogue with Gabriela to be able to resolve the issue," he said. (PNA)