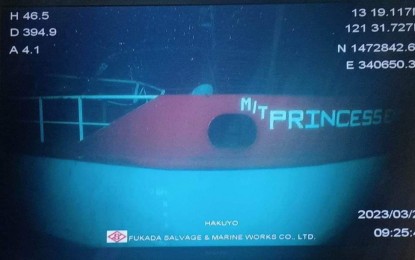 MANILA – A Japanese dynamic positioning vessel (DPV) equipped with a remotely-operated vehicle (ROV) has arrived in Naujan, Oriental Mindoro to help in the containment of the oil spill from the sunken M/T Princess Empress.
"A Japanese DPV, the Shin Nichi Maru, equipped with a ROV or underwater robot, arrived today (Monday) in Naujan, Oriental Mindoro to determine the actual condition of the sunken vessel, which was loaded with 800,000 liters of industrial fuel oil prior to its mishap on February 28, 2023," Office of Civil Defense (OCD) spokesperson Assistant Secretary Bernardo Rafaelito Alejandro IV said in a statement Monday night.
National Disaster Risk Reduction and Management Council (NDRRMC) executive director and OCD administrator Undersecretary Ariel Nepomuceno, Philippine Coast Guard (PCG) Commodore Heronimo Tuvilla, and Oriental Mindoro Governor Humerlito Dolor and the OCD-Mimaropa oversaw the deployment of the ROV.
"The ROV will provide an assessment report on the actual condition of the submerged vessel within three to five days. The report will provide the government the basis to undertake further steps to control the spill from its source," Alejandro said.
Earlier, Tuvilla, who is the incident commander, together with Calapan City Mayor Malou Morillo, Pola Mayor Jennifer Cruz, Dolor, and members of the Customs, Immigration, Quarantine, Security (CIQS) group discussed the ongoing oil spill management operations including the entry and deployment the Shin Nichi Maru.
The officials also conducted an assessment of the oil spill in Pola, Oriental Mindoro.
"Meanwhile, in a coordination meeting of the NDRRMC on March 15, Undersecretary Nepomuceno with officials and representatives of select government agencies assured Governor Dolor of the national government's integrated interventions to mitigate the effects of the oil spill. Governor Dolor earlier raised concerns on the impact of the incident to the province," Alejandro said.
NDRRMC Memorandum No. 19, series of 2023, was also issued on the same day for the creation of a national task force for oil spill management in Mimaropa and Western Visayas.
The task force is chaired by OCD and co-chaired by the Department of Environment and Natural Resources and PCG. Other member agencies are the Department of the Interior and Local Government, Department of Health, Department of Social Welfare and Development, Department of Foreign Affairs, Department of Agriculture, Armed Forces of the Philippines, Philippine National Police, Bureau of Fire Protection and Bureau of Fisheries and Aquatic Resources.
The Department of National Defense has also taken the initiative to seek the expertise and technical support of France and the United States.
As of Monday, the oil spill has already affected 32,661 families in Mimaropa and Western Visayas.
A total of PHP28.3 million worth of humanitarian assistance from the government, local government units, non-governmental organizations, and other partners, was provided to the affected families. (PNA)