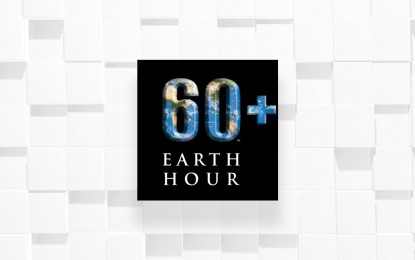 MANILA – The Department of Energy (DOE) reported Monday that the country saved 62.69 megawatts (MW) of energy from turning off the lights from 8:30 p.m. to 9:30 p.m., or the Earth Hour, last March 25.
The DOE said the event was a symbolic demonstration of unity aimed at reversing nature loss and achieving a climate-resilient future.
Of the energy saving in this year's Earth Hour, the largest savings came from Luzon with 33.29 MW, followed by 20.5 MW from Mindanao and 8.9 MW from Visayas.
"This also illustrates how purposeful behavior could achieve something big and worthy. Imagine when individuals, businesses, government, and communities unite not only during Earth Hour but in making energy conservation their everyday way of life, the overall impact would be even much bigger," said DOE Secretary Raphael Lotilla in a statement.
Lotilla urged Filipinos to continue energy efficiency and conservation efforts to help in managing energy demand, especially during dry season when power supply often becomes critical.
"Let us help sustain the momentum by simply consistently practicing energy conservation measures at home, offices, communities, and businesses from switching off non-essential lights to choosing more energy efficient appliances, equipment and machines. These are simple yet valuable actions that we can do easily not only for our planet but more especially during periods of high demand such as this summer season," he added.
However, this year's Earth Hour energy savings slightly declined from 65.32 MW in 2022.
The DOE said many consumers used air-cooling appliances like air conditioners as the heat index last Saturday was at 39 to 40 degrees Celsius, which was higher than last year's index.
The country achieved its highest electricity savings during Earth Hour in 2019 with total savings of 195.34 MW.
Earth Hour is an annual event that started in Sydney in 2007 to work together on the planet's biggest environmental challenges.
Over the years, Filipinos have embraced the Earth Hour movement as a way to show their support for environmental conservation and sustainability.
It has grown to become the largest grassroots movement to reach more people around the world to work together and focus on climate and biodiversity actions. (PNA)