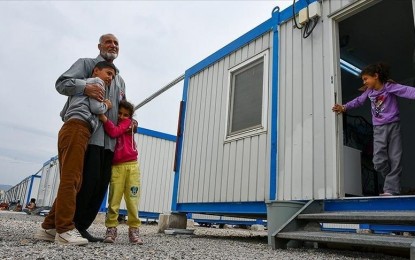 LONDON – The United Nations Development Program (UNDP) is appealing for $550 million for 31 projects that will contribute to the sustainable recovery of Türkiye's quake-hit southern region, and is calling on international donors to assist the government and people of the country.
The UNDP's call comes following an international donor conference that took place in Brussels on March 20, which mobilized $6.5 billion in support for the earthquake response in Türkiye.
The conference featured a presentation of the findings of the Türkiye Earthquakes Recovery and Reconstruction Assessment (TERRA), an analysis of the disaster's financial impact conducted with support from UNDP, the United Nations, European Union, and World Bank.
According to TERRA, the estimated damage and losses caused by the earthquakes amount to $103.6 billion.
The twin earthquakes on Feb. 6 in southern Türkiye struck an area of 110,000 square kilometers (42,471 square miles), killing more than 50,000 people.
According to the UNDP, the disaster displaced 3.3 million people, more than 20 percent of the region's total population and destroyed over 301,000 buildings.
Based on the findings of TERRA, the UNDP has prepared a roadmap offering 31 projects for "building back better" in the quake-hit region.
The organization is seeking $550 million in funding to implement the projects it is proposing for supporting a sustainable recovery.
"The scope of the destruction is unprecedented," UNDP representative in Türkiye Louisa Vinton told Anadolu. "This is why we expect equally unprecedented commitments from global donors."
He said the projects the UNDP is proposing are aimed at restoring livelihoods, social services and cultural heritage.
"Reconstruction is not just about bricks and mortar, but also lives and livelihoods. People need secure employment to ensure a steady income, they need public services such as health care and education, and they need to be able to shop, relax and socialize with other people," said Vinton.
"In short, they need to get back to normal life as soon as possible. At UNDP, we are already working in the region on projects that put people at the forefront of the recovery and rebuilding efforts."
Projects include green development, restoring cultural heritage and livelihoods
According to the UNDP's roadmap for a sustainable recovery in the region, reconstruction activities and development-oriented programs are needed to restore livelihoods and create new income and employment opportunities in the region to "halt and then reverse the ongoing exodus of the workforce" from the region.
The reconstruction in the quake-hit region offers opportunities to incorporate green and climate-resilient solutions into the recovery, the UNDP said.
The proposed projects are built on four pillars: support to government-led crisis response and recovery planning, restoration of critical infrastructure and protection of cultural heritage, support livelihoods and socio-economic recovery and "leaving no one behind" through targeted support to vulnerable groups.
A total of five projects under the first pillar focus on supporting participatory governance and peaceful recovery through the establishment of information and coordination centers, strengthening the protection of human rights in post-disaster situations, effective aid delivery and service planning through data governance, developing a national emergency response for chemical accidents and strengthening legal aid for accelerated access to justice and protection.
The UNDP's 12 projects under the second pillar include ensuring sustainable management of debris, restoring waste management and water treatment plants, restoring cultural heritage, rehabilitation and restoration of natural assets and livelihoods, building back better with near-zero emission structures and supporting an ecosystem-based earthquake recovery.
The organization outlines 10 projects for jump-starting economic activities in affected areas through emergency employment and rehabilitation of critical livelihoods infrastructure, sustainable recovery for trade and craftspersons, rehabilitation of critical agricultural value chains, socio-economic recovery of vulnerable populations in the quake region, improving business continuity and recovery for micro and small businesses under the third pillar of the roadmap.
As many as four projects under the fourth pillar focus on strengthening legal protection and social support for persons with disabilities, increasing the psychological and social resilience of quake survivors and affected communities and improving community resilience. (Anadolu)