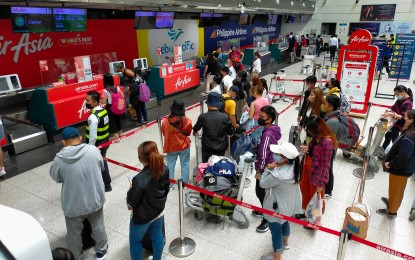 MANILA – Ahead of the Holy Week, the Bureau of Immigration (BI) on Thursday issued reminders to travelers who are required to present additional documentary requirements before they may be cleared for departure.
In a statement, Commissioner Norman Tansingco urged foreign tourists, government officials and employees, and parents/guardians traveling abroad to make sure that they have complete travel documents.
For foreigners or those who have stayed in the country for more than six months, they have to secure their emigration clearance certificates in any of the different BI's district, field, satellite and extension offices nationwide.
Likewise, registered foreigners with Alien Certificate of Registration identity cards (ACR I-Cards) may secure their re-entry permits in other BI Offices or at the BI NAIA one-stop-shop before proceeding to their flight.
The BI chief noted that securing their required permits early "will decrease queueing time in half, because they will not have to fall in line in the separate counter for immigration cashiers."
At the same time, he reminded Filipinos who are working in the government to present their required authority to travel overseas from their respective department heads.
Tansingco advised parents of unaccompanied minors to make sure to secure the required clearance from the Department of Social Welfare and Development (DSWD) before their flight.
Overseas-bound travelers are urged to check in at least three hours before their flight and proceed directly to the immigration area for processing to avoid airport congestion.
He said while slight queues in immigration are expected, they have ensured that manpower is in full force during the peak season.
Earlier, the BI reported that 155 additional immigration officers have been deployed to ensure all counters are fully manned to service arriving and departing passengers.
Tansingco reported that the recently-installed e-gates at the arrival areas in major international airports are expected to decrease processing time from 45 seconds to as low as 8 seconds.
The BI is expecting that the number of travelers will increase starting this weekend. (PNA)