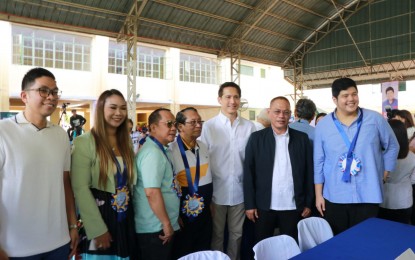 MANILA – The Presidential Commission for the Urban Poor (PCUP) signed a memorandum of understanding (MOU) with Mercury Drug Foundation, Inc. (MDFI) at the latter's head office in Bagumbayan, Quezon City on March 29 to help uplift the lives of the marginalized sectors.
The MOU highlights the foundation's pledge to provide free medicines under Oplan Bigay Lunas for the commission's Service Caravans, which are set to continue this year.
From 2019 to 2022, the commission's service caravans aided about 120,000 Filipinos across the country.
PCUP Undersecretary Elpidio R. Jordan Jr. said with this alongside the commission's four banner programs, they would be able to deliver their mandate in support of President Ferdinand R. Marcos Jr.'s eight-point economic agenda and the Pambansang Pabahay Para sa Pilipino Program, which envisions to build six million housing units for Filipinos.
The signing was attended by xecutive Assistant III Evita Pearl Jamon and DMO III Yvelen Moraña for PCUP, and Executive Director Annie Fuentes, Program Manager Adette Dizon, and Trustees Jess Mangrobang and Alice Lumanog for MDFI.
Public-Private Partnerships
Since 1986, the PCUP has been the direct link between the urban poor and the government in terms of policy formulation and program implementation. It is tasked with establishing projects related to asset reform, human development and basic social services, employment and livelihood, and other government programs for marginalized communities.
Under the leadership of Jordan, the commission has prioritized establishing stronger ties with the private sector to help streamline the delivery of basic services to the urban poor sector.
Before the signing with MDFI, the commission also had initial partnership talks this 2023 with other private and public entities, among them the Philippine Red Cross; Department of Labor and Employment; Commission on Population and Development; Hope Foundation; and Ramon Aboitiz Foundation, Inc.
Meanwhile, the private companies and foundations that partnered with PCUP in 2022 are in the process of crafting and reviewing renewal MOUs. (PNA)