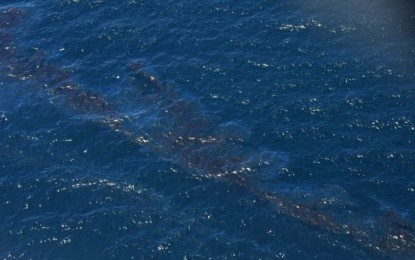 NAUJAN, Oriental Mindoro – Amsterdam-headquartered environmental group Greenpeace on Monday said before the end of April, it targets to come out with fresh satellite images of the surrounding seas where MT Princess Empress sank and potentially reveal the full extent of the environmental damage caused by the oil spill
In an interview, Jefferson Chua, a campaigner for Greepeace's local arm, said the interpretation of the satellite imagery may further confirm recent reports that the oil spill originating off the coast of Naujan town has already traveled over 400 kilometers and reached the coasts of Tingloy town and Verde Island in Batangas.
Dark spots and other ocean anomalies revealed by the snapshots from space will potentially point to where the currents have taken the oil, but actual water sampling is still necessary to ultimately reveal the presence of petroleum, he explained.
"We (Greenpeace) want to come out with the results as early as possible. We are treating this as a top priority because we understand the potential environmental catastrophe that can result from this (oil spill)," Chua added.
Meanwhile, Chua said Greenpeace is also focused on helping affected coastal municipalities get due compensation for the loss of livelihood and overall environmental damage.
He noted that Cedre, a French agency studying accidental water pollution, had already determined the oil extracted from contaminated water bore the "signature" of oil owned by a subsidiary of a local conglomerate.
"Until now, only the ship's owner, Reield Marine Services, has been shouldering the cost of the damage, in compliance with the Oil Pollution Compensation Act of 2007 (RA 9483). But under the Clean Water Act of 2004 (Republic Act 9275), the shipment's owner is also liable for damages," Chua emphasized.
He also reiterated the environmental group's appeal to the people of affected Oriental Mindoro municipalities to refuse quick money from unscrupulous insurers in exchange for signing waivers on filing class suits against responsible companies.
"It is utterly unacceptable that an insurer would discourage claimants from exercising their legal right to seek justice while dangling compensation money over their heads," Greenpeace Philippines recently said in a statement. (PNA)