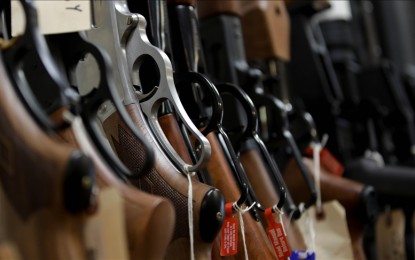 WASHINGTON – Governor Jay Inslee signed a bill into law Tuesday that prohibits the sale, manufacture and import of assault weapons in Washington, making it the 10th US state to implement such a ban.
In a tweet, Inslee said Washington does not and will not accept gun violence as normal.
"Banning the sale of assault weapons, our bill to enact training requirements and a wait period, and the bill to improve accountability of manufacturers and retailers will save lives," he wrote.
On April 19, the House of Representatives approved the sales ban on assault weapons with a vote of 56-42.
Gun manufacturers will be permitted to sell their existing inventory that was in stock before Jan. 1, 2023 under the amendment, according to reports.
The White House said the action will make the state "safer" and "more secure."
"President (Joe) Biden commends the leadership of Washington Governor Jay Inslee and legislative leaders as well as advocate survivors and elected officials who fought for years to make today a reality," spokeswoman Karine Jean-Pierre said at a press conference.
The other states that have banned assault weapons are California, New Jersey, Connecticut, Hawaii, Maryland, Massachusetts, New York, Delaware, Washington, D.C. and Illinois.

Biden has long expressed his support for banning assault weapons as the US continues to grapple with gun violence. (Anadolu)