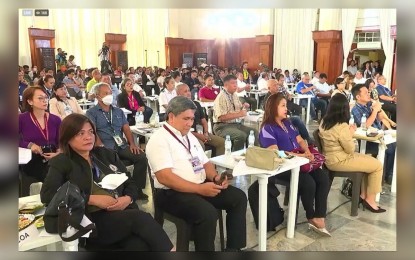 CEBU CITY – Governor Gwendolyn Garcia on Wednesday reiterated the need for "periodic consultations" and coordination in implementing national projects in the province.
Garcia met with provincial and regional agency officials and briefed them on a new local ordinance that outlines "periodic consultations" and coordination in implementing national projects in Cebu province which aims to prevent policy clashes.
About 60 regional heads of government agencies and government-owned and controlled corporations (GOCC) attended the meeting at the provincial capitol to hear about the essence of Ordinance No. 2023-02.
Garcia said the measure is an "enabling ordinance" that puts teeth into Republic Act 7160 or the Local Government Code of 1991, particularly on local autonomy. It establishes coordination for project implementation and optimize results through proper fund utilization.
"We are merely passing an enabling ordinance to the particular sections that are in the Local Government Code. We have not added to the law. These were sections already contained in the law but until now it would seem that LGUs have not realized the extent of the power of local autonomy given to LGUs by virtue of this law," Garcia told regional agency leaders.
Some regional agency heads were receptive of the provincial government's move.
Land Transportation Office regional director Victor Caindec lauded the governor for the initiative of bridging the coordination process between regional agencies and the provincial government.
He was hopeful that close coordination would empower them to implement traffic laws in the province.
Lawyer Cecille Tirol, a representative of the National Museum of the Philippines, said the ordinance would have an impact on the national government's research effort to preserve culture and heritage in the countryside.
Julius Neri, general manager and CEO of Mactan-Cebu International Airport, said the ordinance is no longer necessary since Garcia sits in the airport body as a board member.
The measure, however, will boost development in two countryside airports in Bantayan and Camotes.
On Tuesday, the governor clarified that the measure has nothing to do with the clash of policies between the provincial government and the Bureau of Animal Industry amid the African swine fever issue.
"Any acts of any National Government Agency Officer or GOCC or their employees who shall implement a national policy, program or project without the approval of the Province of Cebu shall be considered as an inimical act of compromising the general welfare of the constituents of the Province of Cebu and a violation of this Ordinance," section 5 of the ordinance reads.
The ordinance required the national government agencies or GOCCs to first submit to the Sangguniang Panlalawigan all pertinent documents related to the policy, program or project they will implement.
Any officer or employee of the agencies and GOCCs who violate the ordinance will be slapped with a PHP5,000 fine per violation and/or imprisonment of not more than a year. (PNA)