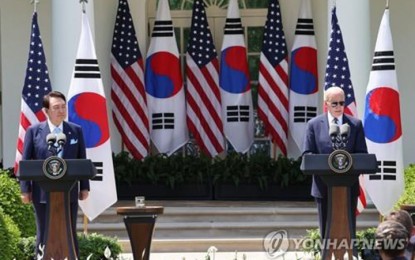 SEOUL – North Korea will step up its "military deterrence" against South Korea and the United States as it lashed at this week's summit agreement between the two states on strengthening the U.S. extended deterrence as a "product of heinous hostile policy" against Pyongyang.
The Korean Central News Agency (KCNA) ran a commentary criticizing President Yoon Suk Yeol's state visit to the U.S. this week as "the most hostile, aggressive and provocative trip and a dangerous one for a nuclear war."
In Washington, Yoon held a summit with U.S. President Joe Biden and announced the adoption of the Washington Declaration, under which the U.S. will share information on nuclear and strategic operations and planning and regularly deploy strategic assets to South Korea.
"The 'Washington Declaration' on raising the practicality of the 'extended deterrence' provided by the U.S. is a typical product of the heinous hostile policy towards the DPRK," the KCNA said in an English-language commentary.
DPRK refers to North Korea's official name, the Democratic People's Republic of Korea.
"Anyone can know well that they are making a nuclear war against the DPRK a fait accompli," it said.
The KCNA also took issue with Biden's warning during a joint press conference that if the North uses nuclear weapons, it will result in the "end of regime." It was the first time that Biden has talked about ending the North's regime.
"What is more serious is that Biden, the president of the U.S., dared to make frantic and reckless remarks about 'the end of regime' towards the DPRK while becoming vociferous about a 'swift, overwhelming and decisive response' at the press conference after the talks," the KCNA said.
"Under such situation, it is quite natural for the DPRK to bolster up its military deterrence corresponding to the grave security environment of the present and the future," it said.
The state media said the joint statement that pledges stronger nuclear deterrence against North Korean threats and strengthening trilateral cooperation between the U.S., South Korea and Japan is identical with "a dangerous nuclear war plot putting up the signboard of security."
"Through this, the U.S. and the south Korean puppets have made their scheme for invasion against the DPRK more clear," the KCNA said.
"The dangerous nuclear war moves of the U.S. and the puppet group running amuck in stifling the DPRK while denying the existence of the DPRK can never be pardoned and they will have to pay dearly for their rash acts," it said.
The previous day, Kim Yo-jong, the powerful sister of North Korean leader Kim Jong-un, condemned the Washington Declaration as reflecting "the most hostile and aggressive will of action" by Seoul and Washington and warned the allies' plan will only result in "more serious danger." (Yonhap)