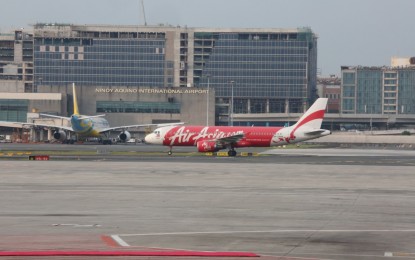 MANILA – Low-cost carrier AirAsia Philippines announced Thursday it made a proposal to make adjustments on some of its flights scheduled on May 16 and 17.
The country's airspace will close for six hours on May 17.
A corrective maintenance at the Philippine Air Traffic Management Center is scheduled from midnight to 6 a.m. on May 17, but normal operations will resume as soon as the activity is finished.
In a public briefing Thursday, Civil Aviation Authority of the Philippines spokesperson Eric Apolonio said the uninterruptible power supply (UPS) will be replaced, and the air traffic management system will be upgraded during that period.
This activity can be finished in about 4.5 hours, but the CAAP allocated six hours so that flights won't be affected should there be issues that need to be fixed, he said.
With this, AirAsia said a proposed rescheduling of 21 flights on May 16, retiming of 13 flights and cancellation of six flights on May 17, was brought up to aviation officials.
The airline said it is eyeing to reschedule flights to and from Taipei, Incheon, Bangkok, Kota Kinabalu, and Incheon, as well as flights to and from Cebu, Bacolod, Davao, Puerto Princesa, Cagayan, Iloilo, and Tacloban. Cancellation will include flights from Manila to Davao, Cebu, and Bacolod and their return flights that are covered within the maintenance period.
AirAsia Philippines deputy spokesperson Carlo Carongoy said they will update the list once they get the approval from the slot allocation committee.
"AirAsia has made adequate preparations to notify guests in advance via SMS and registered email of the flight schedule changes. It also prepared a massive information dissemination campaign through its quad media partners and social media pages," the airline said.
Meanwhile, Apolonio advised the passengers to coordinate with the airlines to know if their flight schedules have been adjusted.
He also apologized to the public, saying the maintenance activity aims to improve the system and avoid the glitch that happened last Jan. 1.
To recall, thousands of passenger were then affected when hundreds of flights were delayed, canceled and diverted to other regional airports due to the technical issues in the air traffic management system. (PNA)