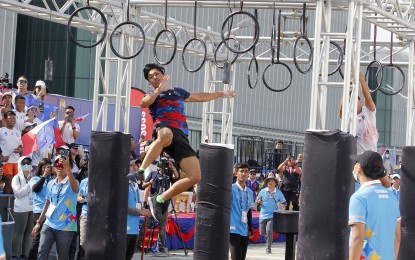 PHNOM PENH – An obstacle racer with a championship pedigree and a fitness model sparked a five-gold haul by the Philippines Saturday even as host Cambodia kept its hold on the early medal lead in the 32nd Southeast Asian Games (SEAG) here.
Competing in the obstacle course racing's 100-meter event before a big crowd at Chroy Changvar Convention Center Car Park, Mark Julian Rodelas topped the men's individual class while Precious Cabuya made her SEA Games debut doubly memorable by ruling the women's division.
Both winners also reset their world records during the eliminations – Rodelas' 25.09 seconds that bettered his 26.42 and Cabuya's 32.73 seconds in the 100-meter course that shattered her own mark of 33.12 achieved during the qualifying heats.
Sakura Alforte opened the country's bid in the three-day karate event by bagging the women's individual kata gold, Annie Ramirez delivered a second gold in jiu jitsu, and the mixed relay team in aquathlon composed of Matthew Justine Hermosa, Inaki Emil Lorbes, Kira Ellis and Erika Nicole Burgos triumphed just before dusk set in.
The five victories came after Jenna Kaila Napolis delivered the Philippines' first gold in jiu-jitsu and Angel Gwen Derla scored a surprising but welcome triumph in the ancient Cambodian martial of kun-bokator on Thursday.
A day after the formal opening ceremonies of the Games being hosted for the first time by Cambodia, the Philippines has amassed 7 gold, 9 silver and 13 bronze medals as of 10 p.m., good for fourth overall.
The host squad will go into action Sunday with a 19-11-10 mark, followed by Indonesia (8-7-11) and Thailand (7-10-16).
One of the heart-breakers for the day was the silver medal finish of Junna Tsukii in karate that left the Filipino-Japanese perplexed, convinced that she was the clear winner over Malaysian Chandran Shamalarani, who was proclaimed the winner by a 2-3 decision in the individual female -50kg kumite.
"I cannot understand the judges and the referee, why they gave the decision to her. I was really surprised with the decision. I'm sorry, this is not the color of the medal that we wanted but that's it," said Tsukii, 31, the 2022 Birmingham World Games gold medalist.
The Gilas Pilipinas and Gilas women 3x3 squads advanced to the semifinals, a day before the Gilas 5-on-5 team arrives here.
The men's team of Almond Vosotros, Lervin Flores, Joseph Eriobu, and Joseph Sedurifa swept the group stage with victories over Laos, 21-5; Vietnam, 21-13; and Indonesia, 21-11, in Group A while the women's squad of Jack Animam, Afril Bernardino, Janine Pontejos, and Mikka Cacho stumbled in the first game with a 21-19 defeat to Vietnam but bounced back against Laos, 21-6, and reigning champion Thailand, 14-8, also in Group A.
Three swimmers – Jerard Jacinto, Thanya dela Cruz, and Jarod Hatch – advanced to the finals being held at press time.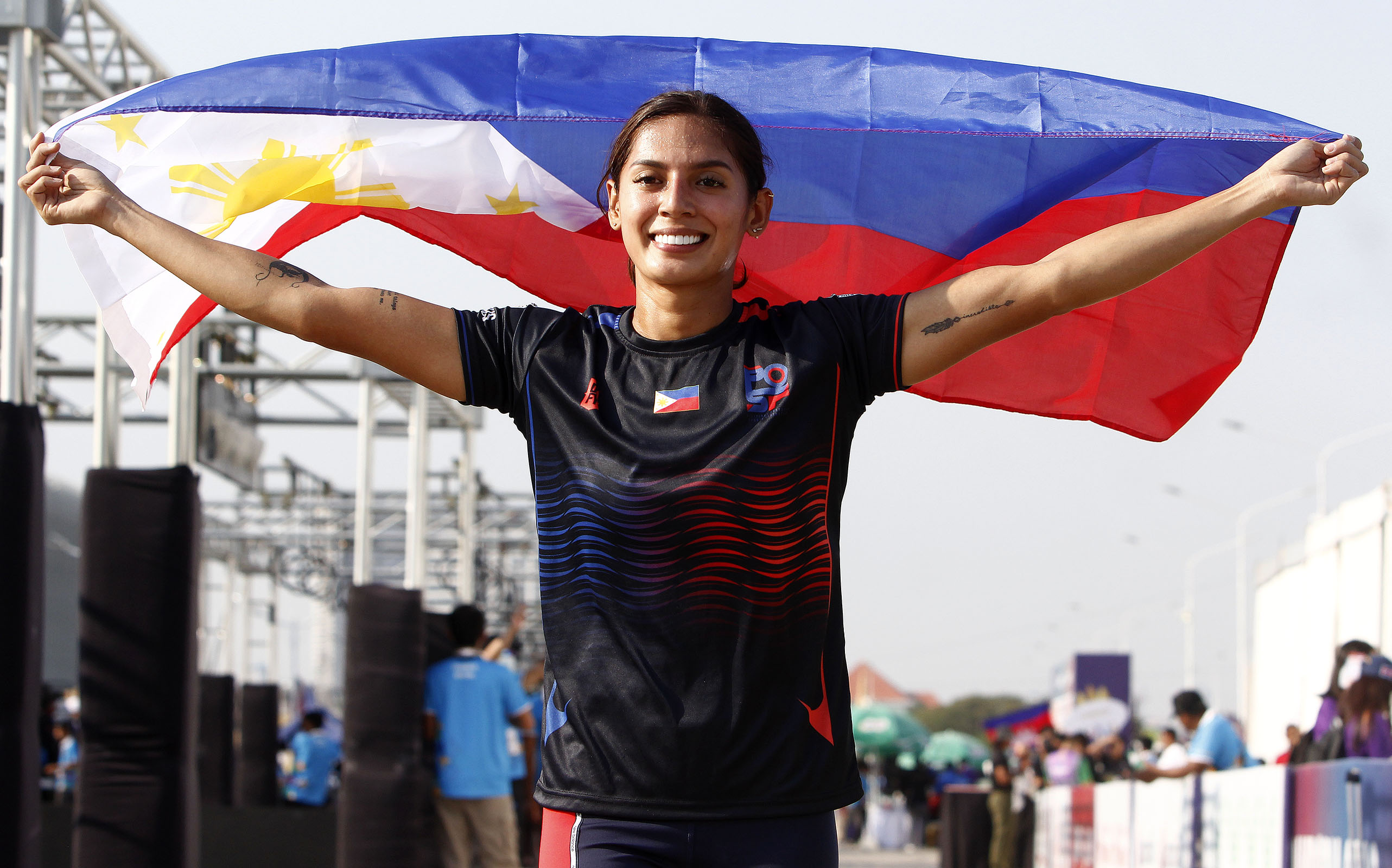 With Philippine Sports Commission chair Richard Bachmann and Philippine Olympic Committee president Abraham Tolentino in the crowd watching, the 35-year-old Rodelas dethroned 2019 champion Kevin Pascua in an all-Filipino duel, clocking 25.1939 seconds against the latter's 26.8135.
Rodelas, whose father Mario is the second cousin of 15-time SEA Games athletics champion Elma-Muros Posadas, bagged a bronze in his initial foray in the sport in 2019 when the Games were held in the Philippines.
Looking to stamp his mark, he quit his job as a high school English teacher and, for the next four years, "really trained hard to reach a higher level."
Cabuya clocked 32.7317 in the women's finals, relegating compatriot Kaizen dela Serna (35.5218) to second.
Triathlon delivers anew
Like it did in Vietnam last year, triathlon and other events under its wings -- in this case mixed relay team aquathlon -- produced an early gold courtesy of Hermosa, Lorbes, Ellis and Burgos.
The quartet clocked a combined one hour, nine minutes and 57 seconds in the 500m swim and 2.5-kilometer (km) run event, easily winning over an Indonesian squad that clocked 1:11.28 and Vietnam which settled for third in 1:13.321.
The mixed relay team's victory in aquathlon came on the heels of Andre Kim Remolino's silver medal finish in men's aquathlon earlier in the day in the seaside town of Kep, 167 km away from here.
Remolino clocked 15 minutes and seven seconds in the 500-m swim and 2.5-km run sprint event behind Indonesian Rashif Yaqin's 14:28.
Cambodia's naturalized entry, Margot Marabedian, topped the women's side in 16:09 and loomed as the biggest threat to the title-retention bid of Filipino Kim Mangrobang, 31, who will seek to annex her fourth straight title in women's triathlon on Monday.
Marabedian, 27, is a former French triathlete, one of three naturalized athletes Cambodia is fielding here.
Cyclists falter under the heat
In Siem Reap, Filipino riders missed making the podium of cycling's cross country of mountain bike at the foothills of Kulen Mountain with the Indonesians wielding the broom in scalding conditions.
Ariana Evangelists barely made the podium with her fourth-place finish in the women's race while Jericho Rivera was equally punished by the over 40-degree heat in the men's side of the competition that saw riders in both genders either failing to finish or unable to complete laps.
"Unfortunately, arriving here three days before the event isn't not enough for the riders to acclimatize with the excessive heat," said PhilCycling vice president and MTB head Oscar Rodriguez who checked in here with the MTB team on Tuesday. "Even under the shade it was 45 [degrees Celsius]."
Indonesia's Salyu Bella Dewi topped the 18.50-km race (3.7-km loop, 5 laps) in one hour, 13 minutes and 48 seconds.
Evangelista persevered for a podium finish but could only settle for fourth place some six minutes behind Dewi.
Shagne Yaoyao figured in a clash in the fourth lap and wound up ninth with a time of 1:24:51, while Nicole Quinones fell a lap short and wasn't timed anymore.
Eleven of the 18 riders who started managed to complete all five laps.
The result wasn't any different in the men's race topped by Indonesians Ferry Yudoyono and Zaenal Fanani with only two seconds separating them.
Rivera completed the 7-lap, 25.90-km event raced over the same course in 1:19:11, five minutes off Yudoyono's winning time of 1:13:51.
Mark Louwel Valderama was 10th in 1:22:28 in the race that had hometown bet Khim Menglong salvaging bronze with 1:15:06.
"No excuses," said Rodriguez, stressing that the Indonesian and Thai teams got used to the Cambodian heat by arriving weeks before the competitions. "We'll see the condition of the riders tomorrow." (POC-PSC Media Bureau)