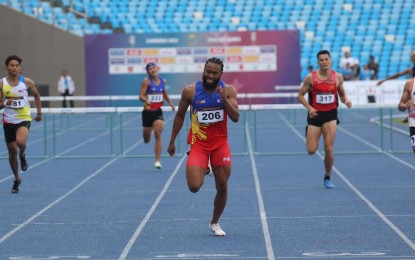 PHNOM PENH – Eric Shaun Cray ruled the 400m hurdles for the sixth straight time Thursday and saved the day for the Philippines' faltering campaign in the 32nd Southeast Asian Games here.
Bugged by a nagging sports hernia, Cray, 34, battled through the pain to clock 50.03 seconds at the Morodok Techno National Stadium, beating Natthapon Dansungnoen of Thailand (50.73) and Calvin Quek of Singapore (50.75).
Cray gave the Philippines its third gold in athletics after the record pole vault win of EJ Obiena and the breakthrough victory of long jumper Janry Ubas.
He delivered the country's 27th gold here on a day the Pinoy athletes, backed by the Philippine Sports Commission and the Philippine Olympic Committee, struggled anew against the gold-churning machines of Thailand, Vietnam and Cambodia.
Starting the day in sixth place, the Pinoy contingent stayed there as of 8:30 p.m., with the Malaysian squad not far behind in seventh.
Vietnam showed the way with 57 gold medals, just one ahead of the Cambodian side that nearly swept all the gold medals staked for the day in kun khmer, a martial art indigenous to Cambodians, and three ahead of Thailand.
Indonesia moved up to fourth, followed by the resurgent Singaporean squad in fifth.
Unless the other members of the national squad who are still in contention step up, the Philippines faces the grim prospects of finishing sixth or, worse, seventh. The country finished seventh in the medal tally in 2013 when the games were held in Myanmar with a measly haul of 29 gold, 34 silver and 38 bronze medals.
Among those who could play savior for the country are the boxers, nine of whom are in the finals, led by Tokyo Olympians Nesty Petecio and Carlo Paalam. The others are Rogen Ladon, Ian Clark Bautista, Paul Bascon, John Marvin, Irish Magno, Riza Pasuit and Petecio's younger brother, Norlan.
Still to plunge into action are the country's bets in arnis who delivered a massive gold haul back in 2019 when the sport indigenous to the Philippines was first held, the taekwondo fighters, weightlifters and judo bets, among others.
Gilas Pilipinas' men's and women's squads are in the thick of the fight for the gold, although they will be severely tested by the Cambodians, who have numerous naturalized players in their rosters.
The Gilas women blasted Singapore 94-63 for their second win in as many games while the men's team was still battling Cambodia at press time.
Among those who tried to infuse life into the Pinoy campaign were fencer Noelito Jose, women's hurdler Robyn Brown, Kristian Narca in kun khmer, and the women's team in esports' mobile legends bang bang who all settled for silver medals. (PNA)