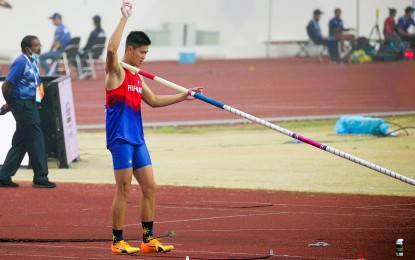 MANILA – The Philippine Athletics Track and Field Association (PATAFA) has commended pole vaulter Ernest John "EJ" Obiena for earning a slot in the 2024 Paris Olympics.
The world's No. 3 Obiena cleared the Olympic standard of 5.82 meters to claim the silver medal during the 2023 Stockholm Diamond League in Sweden on July 2.
World's No. 1 Armand "Mondo" Duplantis of Sweden registered 6.05m to claim the gold medal while Pal Haugen Lillefosse of Norway (5.72m) settled for the bronze medal.
"On behalf of President Terry Capistrano and the PATAFA, we congratulate EJ Obiena for securing the Paris Olympic slot for pole vault in his first competition during the Olympic qualification window," the PATAFA said in a statement on Monday.
PATAFA is hoping that Obiena's achievement as the first Filipino to qualify for the 2024 Paris Olympics will inspire other Filipino athletes to work hard to make it to the world's most prestigious sports event.
"We are delighted that EJ can now focus on preparing for the Olympics, Asian Athletics Championships, and the Asian Games. We are grateful to the continued support of the Philippine Sports Commission and the Philippine Olympic Committee to EJ. We also extend our thanks and congratulations to EJ's coaching team. Mabuhay ang Atletang Pilipino!" the statement added.
Obiena, 27, also qualified for the last Tokyo Olympics but failed to win a medal.
Meanwhile, Obiena will lead the national athletics team in the Asian Championships scheduled from July 12 to 16 in Pattaya, Thailand.
Other members of the team are Eric Cray (men's 400m), Janry Ubas (men's long jump), Umajesty Williams (men's 400m and 4x400m, and mixed 4x400m), Michael Carlo del Prado (men's 4x400m and mixed 4x400m), Frederick Ramirez (men's 400m and 4x400m), Joyme Sequita (men's 4x400m), Maureen Schrijvers (women's 400m and 4x400m), Robyn Brown (women's 400m Hurdles and 4x400m, and mixed 4x400m), Bernalyn Bejoy (women's 800m and 4x400m), Jessel Lumapas ( women's 4x400m and mixed 4x400m), Sonny Wagdos (men's 5000m and 10,000m), John Cabang Tolentino (men's 110m Hurdles), Clinton Bautista (men's 110m Hurdles), William Morrison (men's shot put), Aries Toledo (men's decathlon), Johnmike Lera (men's decathlon), Arlan Arbois (men's 10000m), Gennah Malapit (women's javelin throw), Joida Gagnao (women's 3000m steeplechase), Ronne Malipay (men's triple jump), Sarah Dequinan (women's heptathlon) and Kristina Knott (women's 100m and 200m).
Coaches Jojo Posadas, Sean Guevara, Dario de Rosas, Danilo Fresnido, Eduardo Buenavista, Emerson Obiena, Isidro del Prado, Martin Dela Fuente (Spanish coach of Cabang), Samantha Cray (wife-coach of Eric) and Vitaly Petrov (Ukranian coach of EJ) will accompany the athletes.
Also joining the trip are Capistrano and PATAFA Executive Vice President Guillermo Torres and Secretary General Edward Kho, national training director Renato Unso and Jasper Tanhueco, who will serve as team manager.
The other Cambodia SEA Games medalists in the team are Cray (gold, 400m), Ubas (gold, long jump), Ramirez (bronze, 400m); Del Prado, Ramirez, Sequita and Williams (gold, men's 4x400m relay); Arbois (silver, marathon); Williams (silver, 400m); Wagdos (1500m); Gagnao (3000m steeplechase); Brown (400m); Malipay (silver, triple jump); Dequinan (hepthatlon); Malapit (silver, javelin throw); Bejoy, Brown, Lumapas and Schrijvers (silver, 4x400m relay); Brown, Lumapas, Ramirez and Williams (bronze, mixed 4x400m relay); Toledo (bronze, decathlon); and Tolentino (bronze, 110m hurdles). (PNA)