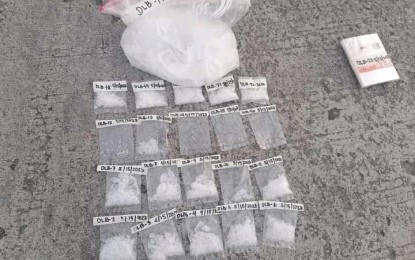 TACLOBAN CITY – The alleged bagman of self-confessed drug lord Kerwin Espinosa was killed in a drug bust in Ormoc City Monday where operatives also seized suspected shabu with an estimated street value of PHP10.2 million
Police identified the drug personality as Allan Bulahan, 37, a resident of Linao village in Ormoc City who died in a firefight with operatives of the Police Regional Drug Enforcement Unit in Tambulilid village.
During the operation, the poseur buyer managed to purchase from Bulahan four plastic sachets containing shabu valued at PHP100,000.
"An armed encounter ensued after the suspect sensed the approach of the operating team, immediately drew his firearm and fired, prompting the operating team to defend themselves. The suspect sustained gunshot wounds and was instantly rushed to Ormoc District Hospital for medical intervention but was pronounced dead on arrival by the attending physician," the police regional office said in its report.
Seized during the operation was at least 1.5 kg. of shabu, which according to Ormoc police was the largest volume of illegal drugs confiscated so far in the city.
Police also recovered from the suspect two digital weighing scales, a metal spoon, and a bundle of empty plastic wrappers.
During a body search at the hospital, operatives also recovered PHP100,000 from his pocket.
Ormoc city police chief Col. Nelvin Ricohermoso said the suspect has been categorized as a high-value individual and traced as Kerwin Espinosa's bagman.
Espinosa is currently detained in Camp Bagong Diwa jail in Taguig.
"We are glad such a bulk of drugs was trapped before reaching the streets," Ricohermoso said late Monday.
Brig. Gen. Vincent Calanoga, Police Regional Office 8 (Eastern Visayas) director, lauded the successful conduct of the operation.
"We continue to be persistent in our campaign against illegal drugs to protect the rights and freedom of all. Had this huge amount of drugs been sold and distributed in the communities, it would have compromised the future of our youth and the peace of our communities," Calanoga said in a statement.
Kerwin is the son of slain Albuera mayor Rolando Espinosa, who was killed in a raid inside his detention cell in Baybay City, Leyte on Nov. 5, 2016. (PNA)