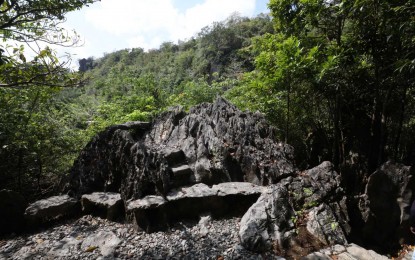 MANILA – The Department of Justice (DOJ) has ruled that the government's "perpetual land trust for conservation" agreement with the Masungi Georeserve Foundation, Inc. (MGFI) in 2017 runs afoul with the limitations set by the Constitution.
The legal opinion, through DOJ Undersecretary Raul Vasquez, explained that Article XII, Section 2 of the 1987 Constitution provides that agreements over all lands, waters, and minerals of the public domain shall be for a period not exceeding 25 years and renewable for another 25 years.
The Bureau of Corrections (BuCor), an agency under the DOJ, earlier announced it is deferring plans to develop and use a portion of the area amid opposition that it would ruin the conservation site.
According to the legal opinion shared to the media on Tuesday, the constitutional provision is "emphatic that agreements for the development and utilization of natural resources may be for a period not exceeding 25 years, renewable for not more than 25 years, and under such terms and conditions as may be provided by law."
"Any such agreement involving natural resources should thus comply with this constitutional requirement. In light of this, it appears that the perpetual trust conferred to the MGFI runs counter to Sec. 2, Art. XII of the 1987 Constitution," the DOJ said.
The department also said Masungi forest rangers reported committing "harassment" would face prosecution.
"It is the responsibility of the Protected Area Management Office's Protected Area Superintendent (PASU) to enforce laws, rules, and regulations relevant to the protected area, commence and institute administrative and legal actions in collaboration with other government agencies or organizations," it said.
Should there be any reported violations committed within the Masungi Georeserve that would warrant the filing of criminal actions, the DOJ special prosecutors shall coordinate with the Protected Areas Management Board and the PASU.
The DOJ opinion was furnished to Cavite 4th District Rep. Elpidio Barzaga Jr., chairperson of the House of Representatives Committee on Natural Resources.
The Masungi Georeserve is part of the Marikina Watershed Reservation that straddles Antipolo City and a number of municipalities in Rizal. It is home to 400 species of flora and fauna.
In 2017, the Department of Environment and Natural Resources, through its late secretary Gina Lopez, entered into a memorandum of agreement with MGFI for a perpetual land trust.
In February, Justice Secretary Jesus Crispin Remulla said no final decision has been reached yet on whether the BuCor headquarters would indeed be moved to the 270-hectare georeserve. (PNA)