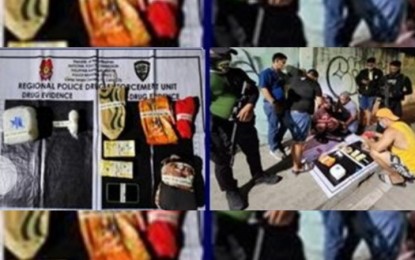 CEBU CITY – Drug syndicates here suffered a major blow after an elite unit of the Police Regional Office - Central Visayas (PRO-7) in confiscated a total of PHP8.3 million worth of shabu from three suspects, the top regional police official said on Tuesday.
Brig. Gen. Anthony Aberin, PRO-7 chief, said the seizure of 1.2 kilos of shabu in Barangay Poblacion Pardo here on Monday netted three suspects -- Anthony John Adlawa, alias "Daot," 31; Archie Marollao, alias "Poloy," 38; and Amid Gantalao, 42.
The trio was the subject of an intelligence operation by the Regional Police Drug Enforcement Unit 7 and the Philippine Drug Enforcement Agency (PDEA-7), according to Aberin.
"The operation resulted in the recovery of an estimated 1,225 grams of shabu with a standard drug value of PHP8,330,000, a pack of Alishan Jin Xuan Tea used as the container of the illegal drugs, an eco-bag, a backpack, buy-bust money and a mobile phone," the police report said.
The arrest of the three whom Aberin called "newly identified drug personalities" is expected to reduce by 30 percent the illegal drug activities in the community. (PNA)