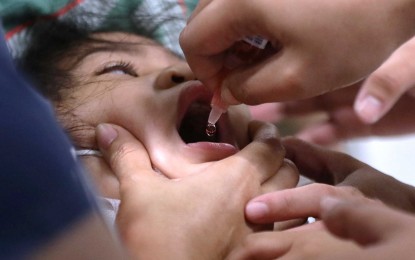 MAMBURAO, Occidental Mindoro – The Provincial Health Office (PHO) on Wednesday revealed that health workers have resorted to "house to house" vaccination to protect more kids against measles, rubella and polio.
In an interview, Dr. Ma. Teresita Tan, acting provincial health officer, said the house visitations are on top of the public vaccination activities being carried out at various health centers and even basketball courts all over the province on a daily basis.
The PHO said it targets to inoculate some 55,000 children, from newborns to 5-year olds, by the time the current round of vaccinations are complete.
The number of vaccinated children in the province under the Department of Health's (DOH) "Chikiting Ligtas 2023" campaign stood at 10,996 as of Tuesday, according to the PHO.
The health officer said that while the number of kids vaccinated so far only represents roughly 20 percent of the target, the public's enthusiasm over the project will ensure that the goal will eventually be reached.
Both the national and local governments are vigorously pushing for the vaccination campaign to avoid an outbreak of the three very common diseases among children.
In April, the DOH, together with its developmental partners United Nations Children's Fund (UNICEF) and World Health Organization (WHO), launched the Chikiting Ligtas 2023.
Vaccinations in the countryside are currently being carried out by various PHOs. (PNA)