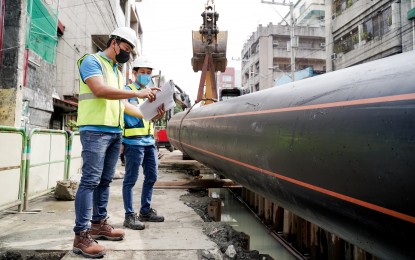 MANILA – Maynilad Water Services Inc. (Maynilad) has allotted more than PHP10 billion for pipe replacement projects from 2023 to 2027, to be done in various portions of its concession areas.
Maynilad, in a press release on Tuesday, said it is replacing a total of 477.2 kilometers of old, leaky pipes over the next five years, in line with its program to upgrade the distribution system and reduce water losses.
"When we took over Maynilad in 2007, the pipe network we inherited included the oldest water system in Asia. We are committed to upgrading our network for the benefit of our customers," Maynilad chief operating officer Randolph Estrellado said.
Once completed, this will bring the total length of pipes replaced within the West Zone to 3,643 kilometers, which is 78 percent of the distribution system that the water firm inherited from the government upon re-privatization in 2007.
From January to April 2023, pipe replacements completed were in the cities of Caloocan, Quezon, Malabon, Navotas, Valenzuela, Manila, Pasay, Paranaque, Imus and Muntinlupa.
These activities are being fasttracked so the water firm can recover more water supply in preparation for the El Niño weather phenomenon.
For 2023 alone, Maynilad earmarked almost PHP4 billion for its Non-Revenue Water (NRW) Management Program, which is a 25 percent increase from its NRW capital expenditure of PHP3.2 billion in 2022. (PNA)