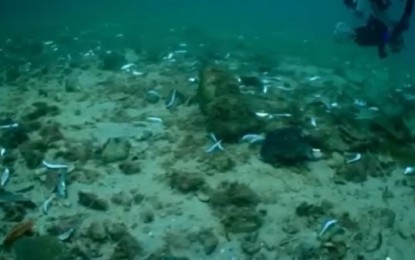 CEBU CITY – The local government of Lapu-Lapu on Wednesday said it will intensify its monitoring and surveillance systems to effectively detect and deter illegal fishing activities around the historical island city.
Mayor Junard Chan made the warning against illegal fishers after a doctor, who is also a diver, posted on social media a video of several dead fish lying on the seabed, reportedly killed due to dynamite fishing.
"In response to this issue, the local government is fully committed to enforcing strict laws and regulations against dynamite fishing," Chan said in a statement.
He said he will convene officials of all coastal barangays in mainland Lapu-Lapu and Olango Island, along with the maritime police, City Agriculture Fishery Office and Bureau of Fisheries and Aquatic Resources 7 to plot monitoring and surveillance systems that will fight illegal fishing activities.
"We are actively collaborating with relevant authorities to ensure the preservation and sustainable management of our marine resources. It is crucial to recognize that tourism plays a vital role in the economy of Lapu-Lapu City," the mayor said, as he condemned "the reprehensible practice of dynamite fishing."
The use of explosives in fishing not only leads to the indiscriminate killing of fish but also inflicts significant harm on coral reefs and other crucial marine habitats, he added.
In his Facebook post, Dr. Jeffrey Lim called on BFAR to prosecute fishermen who are into dynamite fishing.
"As we approached our favorite dive site in Punta West, we noticed a large cluster of small fishing boats in the shallow area of Punta West. Many boats started to leave as we arrived. We noticed they were free diving for fish. As we descended for our dive (into) the deeper area, this is what we saw," he said.
"Apparently, someone was using blast fishing on a school of sardines and many of the stunned or dead fish fell to the bottom in the deeper area which was out of reach of the diving fishermen," he added. (PNA)