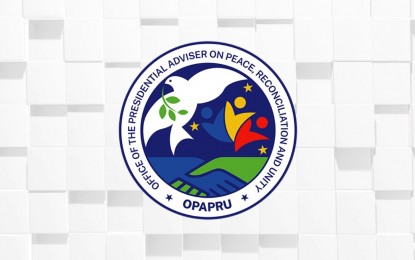 MANILA – The New People's Army's (NPA) anti-personnel mine (APM) attack that killed two civilians in Northern Samar on June 3 highlights the insurgents' disdain for international humanitarian law and protocol.
"The CTG (communist terrorist group) used APM in the attack, which is a clear violation of International Humanitarian Law (IHL) and the International Ban on the Use of APM," Office of the Presidential Adviser on Peace, Reconciliation and Unity (OPAPRU) Acting Secretary Isidro L. Purisima said in a statement Tuesday night.
Purisima condemned the attack in Barangay Magsaysay, Las Navas, Northern Samar, saying such inhumane methods serve no other purpose than to sow fear, anger, and mistrust among the people, especially among the victims of these heinous acts.
Two civilians were killed in the incident – Roel Lebico and Jerson Cabe, construction workers who had just finished working at a farm-to-road market undergoing construction.
Purisima said such attacks have no room in a peaceful, civil, and humane society.
"We, therefore, call on those responsible for the attack to put an end to this cycle of violence. There is no justification for your actions, the repercussions of which are irreparable and irreversible," he said.
Purisima also assured the family of the victims that the perpetrators of the gruesome incident would be held accountable and shall be brought to justice.
He said the NPA must indemnify the families of the victims who will forever carry the scars of their loved one's loss.
"The OPAPRU, in collaboration with its peace partners, is committed to promoting the culture of peace, mutual understanding, and solidarity among our people so that such reprehensible acts against humanity can be prevented or avoided. Once again, we express our sincere condolences to the victims' families. We assure you that justice will be served," Purisima said.
DND condemns mine attack
Meanwhile, the Department of National Defense (DND) also condemned the attack.
"The use of APM in the said attack is emblematic of the utter disregard for the safety of civilians and the violation of the IHL by the CTG. The unfortunate deaths of Roel Lebico and Jerson Cabe, who had just then finished a day of honest work, further cement the viciousness of the CTG in perpetrating their violent crimes against the Filipino people. This must come to an end," DND spokesperson Arsenio Andolong said Tuesday night.
Andolong said the DND expressed its utmost sympathies to the families of the victims and is committed to support efforts to bring those responsible to justice.
"Despite the seeming desperation of the CTG, the Armed Forces of the Philippines will continue to be vanguards of our hard-earned progress in securing our communities," he said. (PNA)