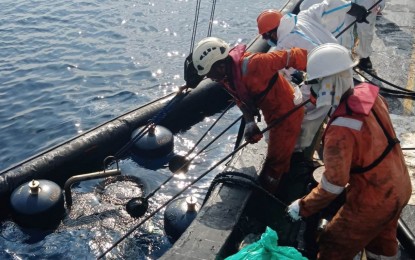 MANILA – The siphoning operations that are part of the oil spill cleanup's final stage in Oriental Mindoro will be completed by June 19, the Philippine Coast Guard (PCG) said on Saturday.
The extraction of the remaining industrial fuel oil from the sunken MT Princess Empress would be 100 percent done after nine days, PCG spokesperson Rear Admiral Armand Balilo said at the Saturday News Forum in Quezon City.
"'Yung kanilang operations, very efficient at naniniwala ako na by June 19 ay 100 percent na 'yung oil na makukuha doon sa mga tangke (The operations are very efficient and I am convinced that 100 percent of the oil would be recovered from the tanks by June 19)," he said.
The National Task Force on Oil Spill Management on June 1 said the siphoning operations might last up to 30 days.
The Malayan Towage and Salvage Corp. started using remotely operated vehicles on June 1 and the deployed catch can collects oil from the cargo oil tanks (COT) of the vessel, which sank off the waters of Naujan town on Feb. 28.
The MT Princess Empress was reportedly carrying about 800,000 liters of industrial fuel oil when it encountered engine trouble, leading to the disaster.
Approximately 50 liters and 75 liters of oil have been recovered from COT No. 1 Starboard and COT No. 1 Port, respectively.
The amount of oil recovered from COT No. 2 Starboard and COT No. 2 Port is yet to be determined.
As of May 31, about 83.74 percent or 64.43 km. of the 79.33 km. of affected coastlines have been cleaned. Only 16.26 percent or 12.89 km. remain for cleanup.
The ongoing cleanup operations have so far collected about 44,656.30 liters of oily water mixture; and 10,708 sacks, 997 drums, 119 pails, and 648 1-tonner bags of oil-contaminated sand/debris and oily waste from Calabarzon, Mimaropa, and Western Visayas.
On June 2, the Dynamic Support Vessel Fire Opal arrived at the Subic Bay Freeport Zone to begin extraction of the remaining oil from the sunken vessel.
The vessel extracts the oily waste and transfers them to a tanker for disposal. (PNA)